The Rev. Al Sharpton joins Eric Garner's family for justice demonstration
Eulene Inniss | 7/28/2016, 11:02 a.m.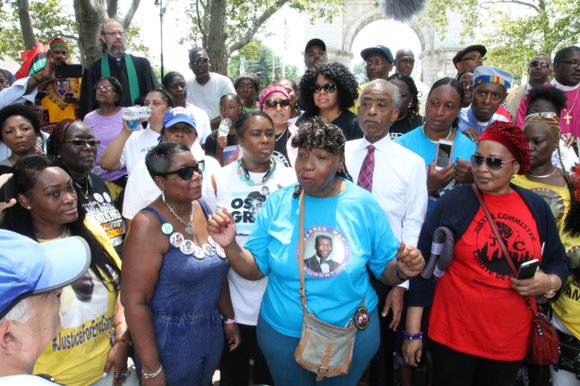 It was two years ago, July 17, 2014, when the Internet exploded with shocking images of the death of Eric Garner, a 43-year-old Staten Island father who died after being choked by Daniel Pantaleo, a New York City police officer. To keep Garner's memory alive, the Rev. Al Sharpton, Garner's mother and other mothers who have lost sons to police brutality led a boisterous march through the streets of Brooklyn.
Garner was choked by Pantaleo as he uttered his last words: "I can't breathe." Pantaleo choked Garner for 15-19 seconds. Garner's death was ruled a homicide by the medical examiner, but District Attorney Daniel M. Donovan refused to indict Pantaleo.
It took a maximum of 19 seconds to commit this crime, and two years later the family is still waiting for officials to admit that the officers involved in Garner's death should be charged for their crimes.
At the event, the Rev. Herbert Daughtry, pastor of the House of the Lord Church, stated, "The National Action Network and this church teamed up to highlight police brutality and to make a change."
A large contingent of police officers escorted the marchers, who were of all ages and ethnicities, from their starting point at the House of the Lord Church on Atlantic Avenue in Boerum Hill, down Flatbush Avenue, past the Barclays Center to Grand Army Plaza. They made their cause known through chants: "Whose streets? Our streets," "No justice, no peace!" and "R.I.P Eric Garner." Passersby voiced their support, and drivers in cars honked their horns in solidarity.
At Grand Army Plaza, Sharpton reminded the marchers, "Two years ago Eric Garner was choked, his mother reached out to me and we joined to fight injustice. Forces feel they can wait us out, but we will stay with her until justice is served, because it could have been you or me. If we don't fight it will continue to happen. We need respect, and justice will not wait us out, two years later we will not be deterred."
Garner's mother Gwen Carr concurred, explaining, "NAN has been with us from the first occasion and this is the kind of unity we need to stop the killing. Come together, start the healing, march so that we can stay connected."
Carr has been supported by many other grieving mothers and extended families, who are determined to maintain strength through unity as they pursue justice, waiting for the federal government to decide whether to file civil rights violation charges against Pantaleo. Sharpton and Carr visited Garner's gravesite in New Jersey after the march through Brooklyn.