With the return of two Chibok girls, hope builds for the release of all
(GIN) | 6/2/2016, 10:36 a.m.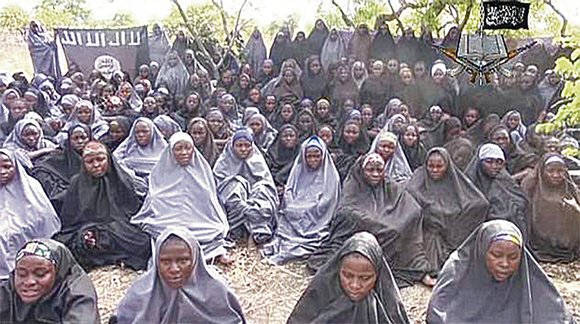 (GIN)—When news broke that a Chibok girl, one of the more than 200 Chibok schoolgirls missing for the past two years, had been discovered not far from where her kidnapping took place, there was no greater story that day in Nigeria.
Initial reports said the girl, Amina Ali Nkeki, was found at the edge of Sambisa Forest, accompanied by a man who claimed to be her husband but was suspected to be a Boko Haram insurgent. She carried a 4-month-old baby, likely born in captivity.
From there, her life entered a maelstrom of photo ops with politicians, a reception with President Muhammadu Buhari, speeches and global media coverage.
Nigerian author and professor, Okey Ndibe, recalled the day. "It was brouhaha all the way," he said. "Borno State Gov. Kashim Shettima feted the 19-year-old mother. The next day, President Muhammadu Buhari welcomed Amina and her baby to Aso Rock, his official residence, where cameramen were at hand to snap photos as he cradled the young child in his arms. Speaking on behalf of the Nigerian state, the president promised that Amina would receive the best physical, psychological and emotional health care Nigeria can provide. You'd think, watching all the excitement, that all 219 schoolgirls, not just one, had been spirited from their abductors."
Then, two days after Nkeki's rescue, a second rescue was announced by the Nigerian military. With the discovery of Serah Luka, Nigerians felt that the remaining 200 plus victims would shortly be freed.
But "the second success story turned out a dud," Ndibe observed. Chibok parents questioned the military's claim that Luka was one of the schoolgirls. Neither her name nor her image was on the roster of the missing schoolgirls.
"Whether it was an honest mistake or a calculated fib, the misidentification of Serah as one of the Chibok schoolgirls further fueled conspiracy theories," Ndibe said. "Some critics saw the first and second rescues as politically orchestrated maneuvers, a plot by the Buhari administration and its champions to deflect attention from biting economic crises and deepening social misery."
He added,"For me, the question isn't whether Amina represents some political ruse but why the military establishment of Africa's most populous country hasn't been able to comb Sambisa Forest to rescue the other schoolgirls abducted more than two years ago. I am amazed that the military and the political authorities would make such fuss over the accidental—not planned—rescue of a solitary captive. One found the air of celebration around Amina altogether embarrassing. It's absurd that the rescue of one out of 219 missing girls was turned into an occasion to blow the trumpet."
Ndibe concluded with a touch of regret, "Amina, Serah and Sambisa Forest are metaphors of a country whose malaise is deep-rooted, increasingly troubling, and potentially tragic ... Mr. Buhari's burden is to view and treat every Nigerian with the same concern and solicitude he showed to Amina. All Nigerians, not just Amina, deserve access to sound health care, good education and the opportunity to realize their potential."