'Think Orange!' Gun Violence Awareness Month begins
By NAYABA ARINDE Amsterdam News Editor and by SIMONE R. JOHNSON Special to the AmNews | 6/2/2016, midnight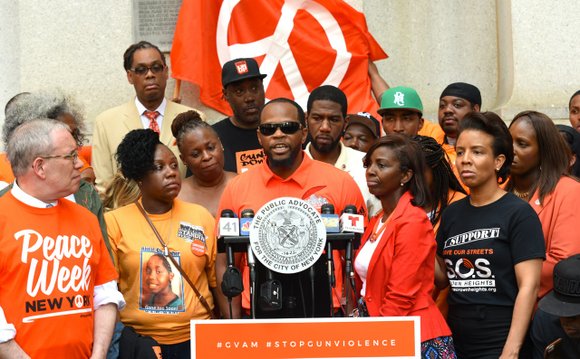 "It's time for them to not sit down with the people that speak for us, but with us," said anti-gun violence activist Erica Ford, founder of the LIFE Camp, at a Manhattan launch of June Gun Violence Awareness Month. "It's time to bring attention and awareness to the anti-gun violence movement. This will continue to grow but we need to break down some of the bureaucracy so that organizations like these can get the money they need to be successful."
From shoelaces to eyeshadow, orange was everywhere at the press conference at 1 Centre St. in downtown Manhattan. Council members and politicians stood side by side, including Ford, civil rights activist; Justice League NYC's Tamika Mallory; A.T Mitchell, the founder of Man Up Inc.; Shanduke McPhatter, the founder of Gangsters Making Astronomical Community Changes; and Iesha Sekou, founder of Street Corner Resources.
This is an annual event, highlighting the sometimes bloody summer months. The push is to get more resources to the results-proven solution-based organizations. Fund what works was the rallying cry.
Politicians also stood beneath the blazing hot orange sun so as to be seen lending support, including Public Advocate Leticia James; D.A. Cyrus Vance; City Comptroller Scott Stringer; and City Council members Vanessa Gibson, Jumaane Williams, Daneek Miller, Laurie Cumbo and Robert Cornegy.
Many of the activists referred to the members of the movement as their family. The idea of support was a constant theme in the speeches of officials, activists and mothers.
Oresa Napper-Williams, a mother from Bedford-Stuyvesant Brooklyn, who lost her son Andrell to gun violence in 2006, explained the importance of the kickoff event. "It's a city-wide effort and it brings more attention to gun violence. My son was killed during the summer months in August and a 15-year-old pled guilty and it was the day he should have been at a summer youth job. My son was just hanging out there. I think we can improve and push forward and set policy and procedure so that this doesn't happen to another family."
Natasha Christopher, another mother from Brooklyn, said, "You know what my 9-year-old said to me? He said,  'when I go to the park I want to go play basketball, not duck and cover.'"
Christopher lost her 14-year-old son Akeal Christopher to senseless gun violence on his birthday in July 2012.
Among the number of mothers and fathers who have lost loved ones at the press conference was Shanduke McPhatter. He lost his baby brother Edgar in a shooting just two weeks ago at a T.I. concert at Irving Plaza in Manhattan. The shooting also left three wounded. Brooklyn-based rap artist Troy Ave (Roland Collins), one of the people wounded, was seen on video firing a weapon, and he has been charged with attempted murder and held without bail.
"I am taking one day at a time," McPhatter told the Amsterdam News. "People are dying every day from this. It doesn't stop me—I was already doing this. It's just that now it gives me a different experience. I'm just focusing on the funeral and we go from there."