Muhammad Ali, 'The Greatest,' dies at 74
By Steve Almasy, Madison Park and Joe Sutton, CNN | 6/4/2016, 4:41 a.m.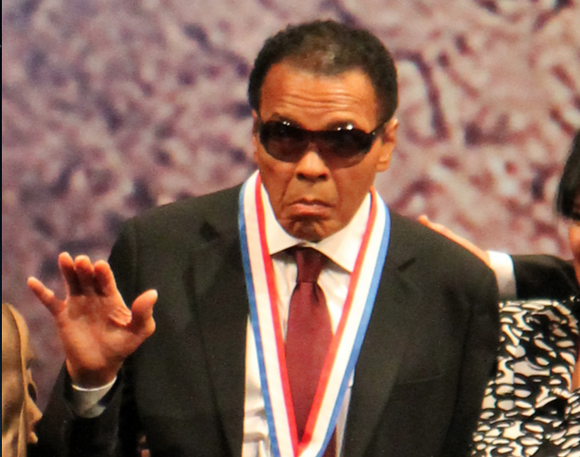 (CNN) -- Muhammad Ali, the legendary boxer who proclaimed himself "The Greatest" and was among the most famous and beloved athletes on the planet, died Friday in Phoenix, a family spokesman said.
Ali had been at a hospital since Thursday with what spokesman Bob Gunnell had described as a respiratory issue.
"After a 32-year battle with Parkinson's disease, Muhammad Ali has passed away at the age of 74.
The three-time World Heavyweight Champion boxer died this evening," Gunnell said in a statement. "The Ali family would like to thank everyone for their thoughts, prayers, and support and asks for privacy at this time."
Ali's daughter Hana Ali said her father was the a "humble mountain."
"And now he has gone home to God. God bless you daddy. YOU ARE THE LOVE OF MY LIFE!" she tweeted.
A tweet on Ali's official page posted a photo of the boxer and said simply, "Muhammad Ali. 1942-2016."
Don King, the boxing promoter who was every bit as brash as Ali, told CNN that in his mind Ali will never die.
"His spirit will go on forever," he said. "He's just a great human being, a champion of the people, the greatest of all time."
Even as the former champ battled Parkinson's, he had the same love for life and people, King said. Parkinson's disease, which primarily affects a patient's movement, is a "progressive disorder of the nervous system," according to the Mayo Clinic.
"His spirit was solid as ever," King said. "He wasn't the man who'd take defeat. Defeat wasn't in his vocabulary."
The Ali sense of humor was displayed in an old photo tweeted by Oscar De La Hoya, who won titles in six weight classes.
"RIP @muhammadali, a legend who transcended sport and was a true champion for all. #thegreatest #MuhammadAli," De La Hoya wrote above an image of Ali whose mischievous eyes proudly watched as his right hand made rabbit ears behind the "Golden Boy's" head.
Hours before her famed father passed away, Laila Ali posted a throwback photo of Muhammad Ali with her daughter, Sydney, who was born in 2011.
"I love this photo of my father and my daughter Sydney when she was a baby! Thanks for all the love and well wishes. I feel your love and appreciate it!!" Laila Ali, herself a former world champion boxer, wrote.
George Foreman, who Ali defeated in 1974 for the world heavyweight title, wrote on Twitter, "It's been said it was rope a dope Ali beat me with. (N)o (it was) his beauty that beat me. Most beauty I've know(n). loved him."
Famed promoter Bob Arum wrote on Twitter: "A true great has left us. @MuhammadAli transformed this country and impacted the world with his spirit."
Mike Tyson, the youngest heavyweight champion in history, said, "God came for his champion. So long great one. @MuhammadAli #TheGreatest #RIP."
In recent years, Ali had largely stayed out of the public spotlight. In his last known appearance, Ali appeared at Parkinson's fundraiser April 9 in Phoenix, according to the Arizona Republic. A photo posted by the newspaper showed Ali wearing dark sunglasses.