Ali tributes overflow from African leaders
GIN | 6/9/2016, 11:38 a.m.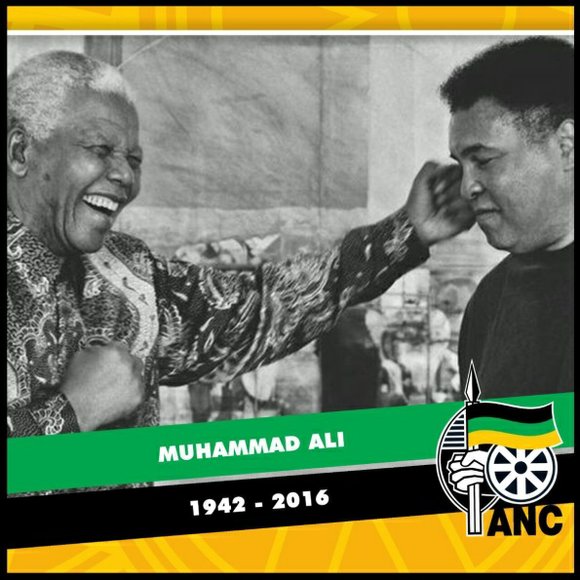 He was adored by hundreds of millions on the continent, but Muhammad Ali was much, much more. He championed Africa's cause, seeking to change the bleak views held by many outside the continent—a place of accomplishments that were cruelly omitted from school textbooks.
Ali's voice was already finding an international audience even before the match that electrified millions of African people in 1974.
In 1967, saying he would go to jail rather than go 10,000 miles around the world to kill brown people in Vietnam, his words sent shock waves to oppressed people in Karachi, Pakistan, in Cairo, Egypt and in Guyana, where a picket of support went up in front of the U.S. Embassy.
Seeing Africa on an earlier three-nation tour, Ali shared his delight at visiting a Black continent. "I am glad to tell our people there are more things to be seen in Africa than lions and elephants," he enthused. "They never told us about your beautiful flowers, magnificent hotels, beautiful houses, beaches, great hospitals, schools and universities."
Then, with the "Rumble in the Jungle" fight against George Foreman in 1974, Ali cemented his African connection. Ali's jaw-dropping victory over Foreman clinched his place as the people's champion, said Lagos-based reporter Yomi Kazeem. "Ali was a towering inspiration to Africans throughout and beyond his fighting career."
This week, tributes poured in for the legendary champ. Ghana's president, John Mahama, posted a picture of Ali with Ghana's first president and renowned pan-Africanist, Kwame Nkrumah. African Union Chairperson Nkosazana Dlamini Zuma tweeted condolences.
President Uhuru Kenyatta of Kenya wrote, "Muhammad Ali was not only a great boxer, I celebrate him as an inspiration and a peacemaker. He left footprints of true greatness on Earth."
Ali's interest in Africa did not end with Kinshasa and he visited the continent several times afterwards.
From South Africa, former President Nelson Mandela's grandson, Mandla Mandela, recalled "For Madiba, who had been an avid boxer in his youth, it was a dream come true to meet his boxing hero in real life and draw inspiration for his courage, bravery and self-belief."
Another memory was shared by independent journalist Khadija Patel, a young girl of 9 in 1993, who remembered waiting for an announced visit by Ali to Johannesburg.
"I cannot claim to have had my life immediately altered by the sheer act of waiting for him," she said. "But I can understand now how important it was for me as a child to understand, without it being said, that people with skins tainted by the gaze of the oppressor—people with names like mine—could also touch the world."
SOUTH AFRICA UNSETTLED BY US WARNING OF IMMINENT TERROR ATTACKS
(GIN)—South Africans were shocked this week to learn that a U.S. travel alert, issued Saturday, predicted a likely attack by terrorist groups at upscale shopping areas and malls in Johannesburg and Cape Town and had warned Americans to take measures.
There had been no such warning from South African authorities. State Security Minister David Mahlobo assured citizens that the country was not in "immediate danger" of attack by militant Islamists.