Liberty Burn the Fever
Lois Elman | 6/9/2016, 1:13 p.m.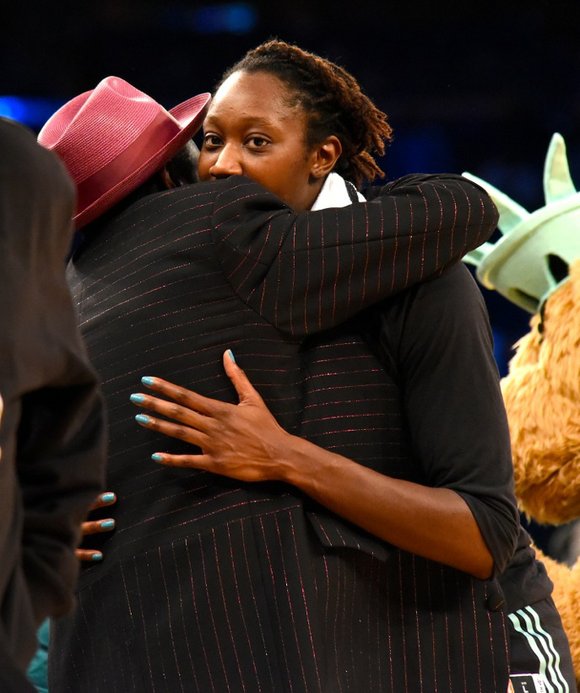 Last Friday's 91–59 home court win over the Indiana Fever was the New York Liberty's largest margin of victory since August 2010. Although the early parts of the game were close, the Liberty became more and more dominant as the game progressed. You could judge how the team was feeling by the size of director of player development Teresa Weatherspoon's smile, which progressed from a small grin to beaming.
"We came out and got it done," said coach Bill Laimbeer. "I think our defense was very solid. That's what carries us all the time. … If we bring that kind of energy and effort every night, we'll be OK."
Frustrated by three consecutive tough losses—two in overtime—the Liberty players had a sense of purpose. Instead of lapsing when the lead swelled to near 20 points, the Liberty turned up the heat all the way to the finish.
"We needed this win and we've been working hard," said guard Shavonte Zellous, who scored 13 points in the win. "We have great leaders in Tanisha [Wright] and Swin [Cash], who keep reminding us, 'Stay focused.' We realized, we can't let teams creep back on us and give them the momentum.
"We weren't letting this slip away from us. This win was huge to get our momentum and get our minds right."
Rookie center Adut Bulgak saw her first minutes of the season and scored her first points thanks to a very long pass from guard Shoni Schimmel, who also showed off some of her flashy passing moves and sank two three-pointers.
"I've been in that rookie position. To go out there [for the first time], you're nervous, you're jittery for your first game," said Schimmel. "I saw her wide open and I have confidence in my teammate to catch the pass. She did exactly that—she caught the pass and she laid it up. Just to have that moment shared with her, I think it livened up the crowd even more."
After the win, the Liberty headed out on the road.Sunday, they defeated the Seattle Storm 86‑78. The Liberty had four players in double figures for the first time this season. They return to Madison Square Garden Tuesday against the Dallas Wings.