Norman Seabrook arrested on corruption charges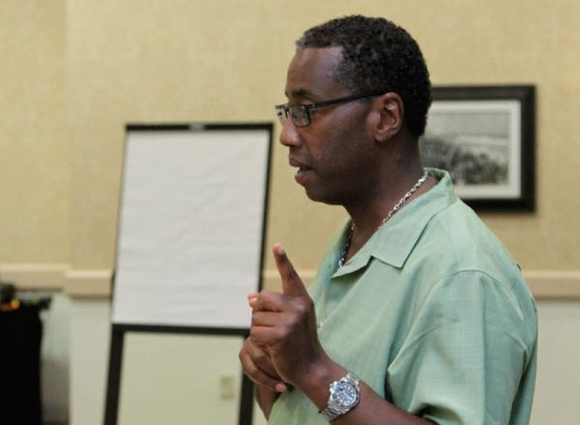 Norman Seabrook, president of the Correction Officers' Benevolent Association, was arrested in his home Wednesday morning on corruption charges.
U.S. District Attorney Preet Bharara and Assistant Director-in-Charge of the FBI's New York field office Diego Rodriguez announced the arrests of Seabrook and hedge fund financier Murray Huberfeld. They were both charged with committing honest services wire fraud.
Seabrook was arrested in his Morris Park home in the Bronx without incident. Huberfeld was arrested in Manhattan later the same day.
Huberfeld is accused of paying a $60,000 bribe to Seabrook, with the promise of future bribe payments, in exchange for Seabrook investing $20 million of his union's money in Huberfeld's hedge fund.
"As alleged, Norman Seabrook and Murray Huberfeld engaged in a straightforward and explicit bribery scheme," stated Bharara. "For a Ferragamo bag stuffed with $60,000 in cash, Seabrook allegedly sold himself and his duty to safeguard the retirement funds of his fellow correction officers. Norman Seabrook, as COBA's president for over two decades, allegedly made decisions about how to invest the nest egg for thousands of hardworking public servants, based not on what was good for them, but on what was good for Norman Seabrook."
"When an official takes advantage of his or her position as steward of an organization's financial resources in order to line their own pockets, it is a dereliction of duty for someone trusted to protect the financial contributions of the hardworking men and women who belong to the organization," added Rodriguez. "When a hedge fund manager provides bribe payments to organizations to gain their business, he or she puts the financial security of the fund's investors at risk."
According to Bharara and company, during a 2013 trip to the Dominican Republic, Seabrook told a cooperating witness for the government that he worked hard to invest the union's money and wasn't getting anything out of it. He told the witness that it was his time to get paid. The witness connected Seabrook with Huberfeld, who was looking to attract investors in the public realm. Huberfeld eventually agreed to work out a formula in which Seabrook would be paid a kickback of the profits from COBA's investment.
COBA is the largest municipal jail union in the United States and represents 9,000 correction officers in New York City, including at Rikers Island.
The two fraud counts each carry a maximum 20-year prison sentence. Attempts to contact COBA officials for comment were unsuccessful at press time.