'Shuffle Along,' 'Color Purple,' 'Eclipsed' and 'Royale' recognized at Drama Desk Awards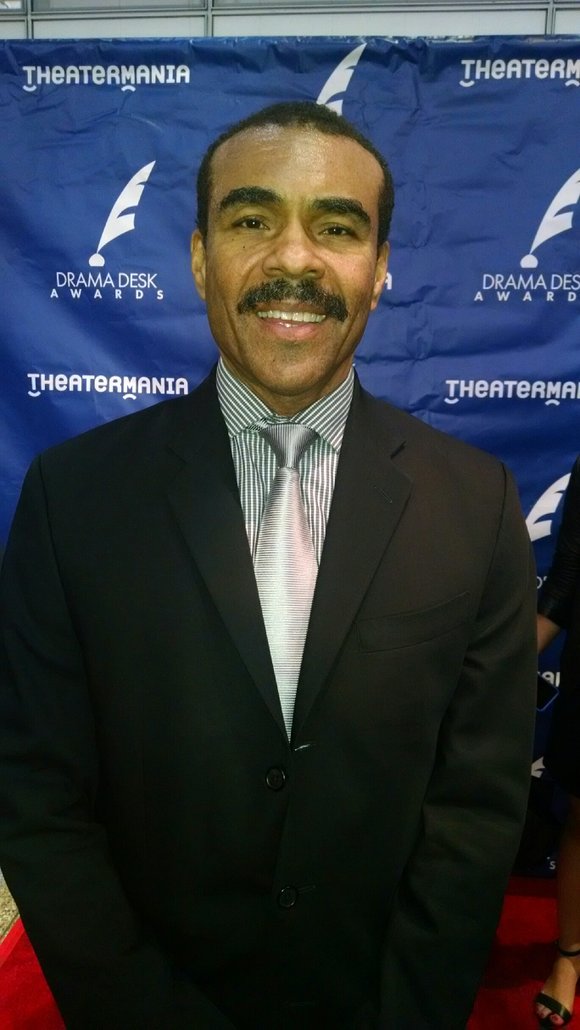 Black theater was recognized for its brilliance and talent on and off Broadway at the 61st annual Drama Desk Awards, held Sunday, June 5 at the Town Hall. "Shuffle Along" received the ultimate honor and several more, "The Color Purple" was recognized and "Eclipsed" received special attention on a few levels. Off-Broadway, the cast of "The Royale" was acknowledged with a special ensemble award.
It was a thrilling moment when "Shuffle Along" won outstanding musical. The honor was presented to the musical's book writer as well as director, the one and only George C. Wolfe. "As I got more information about 'Shuffle Along,' I knew it had to be told. These things matter. If it wasn't for 'Shuffle Along,' we wouldn't be here."
The show has choreography by Savion Glover, someone Wolfe has worked with many times in the past. "It's great to work with Savion again," he shared. "I've worked with him when he was 16, then 22 and now in his 40s." The musical has an all-star lead cast of Tony winners: Audra McDonald, Brian Stokes Mitchell and Billy Porter, along with Joshua Henry and Brandon Victor Dixon. "The lead cast members are smart, talented, human and as decent as they are brilliant," Wolfe remarked.
Outstanding Choreography was rightly awarded to Savion Glover for the phenomenal job he did creating the dance moves for this unforgettable musical. A humble Glover said, "I feel great! I feel extraordinarily honored to be a part of the creative team of 'Shuffle Along,' as well as the family—not only the performers but the people who make it happen. This is a beautiful experience … It is my proud privilege to bring George's vision to life through dance choreography and to have an opportunity to relive the past. There was hardly any footage of dance of the times back in the 1920s, but I feel that because of my research and studies I've been engulfed in throughout my dance career, I felt as if there was a connection. Because of some of my teachers and mentors like Jimmy Slyde, Gregory Hines and Sammy Davis Jr.—their energy has prepared me for this day. I'm honored to lend my choreography to the first African-American musical … The dance is tap, jazz dance and simply movement. We've been in developmental mode for over a year and a half before we started rehearsing."
Discussing working with Broadway heavyweights such as McDonald, Stokes Mitchell, Porter, Dixon and Henry, Glover explained, "These people were eager to learn. They wouldn't allow me to simplify the dance for them. They wanted it in its rawest form."
Outstanding Wig and Hair for "Shuffle Along" was awarded to Mia M. Neal. "I had to bring my A game because I'm coming to Broadway with such heavyweights like George, Ann Roth, Audra and Brian," Neal remarked. "This is my first big musical and I was met with such a great level of support that it eliminated my fears and I stepped it up … Before coming to this show I wasn't aware of the history of this show. I thank George for bringing it to me and a whole new audience."
Outstanding Costume Design was awarded to Ann Roth for bringing back the gorgeous outfits of the 1920s.
"The Color Purple" had a night to remember as its lead actress, Cynthia Erivo, won Outstanding Actress in a Musical, and remember this is her Broadway debut. Not bad. Not bad at all! Anyone who has seen her portrayal of Celie and heard the power and passion in her voice understands why she won. "I am overwhelmed and I'm really happy," Erivo said. "Who knew this London girl could do something like this? I'm super pleased to make my debut with her … I want people to realize that they are enough. You have to love yourself."
The other honor for "The Color Purple" that evening came to the musical's director, John Doyle, who won Outstanding Director of a Musical.
I don't know if you have seen "Eclipsed," about a group of women in war-torn Liberia who are the "wives" of a commander of a rebel camp. If you haven't seen it, it is something that you need to experience. This play gives these women a voice that they did not have before and makes the world aware of a heinous issue. It was so appropriate that the production's playwright, Danai Gurira, was given the Sam Norkin Award for her work and for another play called "Familiar."
Four of the women are daily victims to the commander. He decides anytime he wants to rape them and they just have to take it. Talking about "Eclipsed" Gurira said, "You meet people who have gone through this, but how do they get up the next moment after they have gone through being raped. How do you maintain your dignity after being stripped of your power? I wanted people to see this situation and feel it. People of African descent and women are marginalized. Tell an excellent story from your heart, get it as far as it can get. Be true to yourself, that's where the best stories are born. I've met artists who were fearful of writing stories because they think no one will put it on. So we don't get astounding stories out there. That's [expletive]! The more people are aware of what's going on across the world, the more activists can be born. I hope 'Eclipsed' stirs the inners of these audiences and lets people know you have the power to effect change."
Gurira has been a writer since 2009. "Writing allows voices to get out there that we're not used to hearing," she added. "It's a fascinating and filling experience. It starts from a place of outrage. When I put the story out there, I feel like I've touched the burdens of my heart."
As the evening went on, although "Eclipsed" deals with a very serious subject, cast member Saycon Sengbloh, who portrays Helena, the "wife" with longevity, fear and wisdom, experienced an enormous amount of joy as she won Featured Actress in a Play.
"A great deal of my family on my dad's side came here from Liberia and the war," Sengbloh explained. "My sisters would never talk about it. The most talking my family did about it was when I got this play, so this is something deep inside of me. I carry that with me and my spirit is cool in that way. The character has a lot on her plate, but she's a very simply woman in a desperate situation. We all represent the different type of people that are in those situations and the way they would react. It is thrilling to play a character that is written that well."
Two of the cast members from "The Royale," which played at Lincoln Center Theater, were on hand to accept a special Drama Desk Award for Outstanding Ensemble. Montego Glover and Khris Davis were there. "The Royale" is a play that talks about the racism and other issues that were faced by Jack Johnson, the first African-American heavyweight boxing champion in America. The rest of the cast included McKinley Belcher III, John Lavelle and Clarke Peters.
Glover and Davis stated that they were honored to receive this ensemble award. "It's like winning an award for being with your family," said Davis. Glover stated that the scope of the story is tremendous and that although set in the last century, it is timely. "It touches on our experiences as Black athletes in America," Glover explained. "The writing is so deep."
Try your best to go to Broadway and Off-Broadway theaters. There are a lot of wonderful productions happening that will move your soul.