Apollo Gala shines
AmNews staff | 6/16/2016, 1:14 p.m.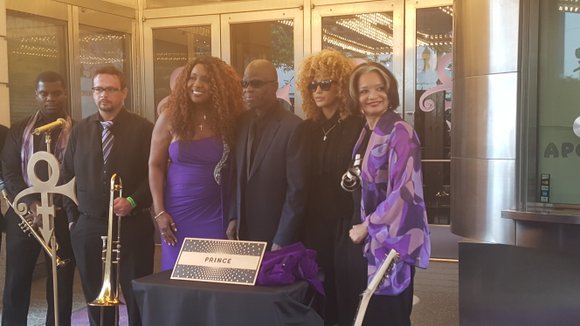 Monday night the Apollo Theater celebrated its 11th annual Spring Gala. The event, which was hosted by LL Cool J and featured performances from The O'Jays, Leon Bridges and Andra Day, raised $1.7 million for the Apollo's year-round artistic and community programming initiatives.
In a very special addition to the 2016 gala, the evening began with an afternoon ceremony to induct legendary recording artist Prince into the Apollo Walk of Fame. The induction ceremony took place just under the Apollo marquee and included performances and appearances by legendary saxophonist Maceo Parker; members of Prince's renowned band, the New Power Generation; Prince's protégé and singer/musician, Andy Allo; and R&B singer Meli'sa Morgan, who sang her hit song "Do Me Baby," which was written by Prince.
The concert portion of the evening opened with the dynamic dancing duo Laurent & Larry Bourgeois of Les Twins. The concert also featured The O'Jays performing "Love Train," "The Backstabbers," "For the Love of Money" and more. Rising star vocalist Bridges brought the crowd to its feet with a performance of "Mustang Sally" and vocalist Day performed her hit song "City Burns," followed by a touching performance of "Unforgettable," in tribute to legendary songstress Natalie Cole. LL Cool J joined DJ D-Nice for a tribute to Phife Dawg of A Tribe Called Quest, one of several iconic artists lost in 2016.
The concert portion ended with a powerful Prince tribute, which included guitarist Vernon Reid and Cheryl Pepsii Riley, who sang an emotional version of "Purple Rain."
Each year at the Spring Gala, the Apollo also recognizes a corporation for its outstanding philanthropy and community leadership. Last evening VIACOM Executive Chairman, President and CEO Philippe Dauman accepted the Corporate Award in recognition of his company's community leadership. Apollo Board Vice-Chairman Charles Phillips presented the award.
The night culminated with a much buzzed about after-party, held in a stylish tent created by celebrity event planner and Apollo board member Bronson van Wyck. The after-party featured a special "Let's Go Crazy" dance tribute, with DJ D-Nice spinning a dedicated set to the sounds of Prince's diverse and extensive catalogue.
Prince joins previous Apollo Walk of Fame inductees, all legendary musicians, artists and entertainers whose paths to fame included the Apollo: Chaka Khan, Stevie Wonder, Michael Jackson, Aretha Franklin, Quincy Jones, Patti LaBelle, Smokey Robinson, James Brown, Gladys Knight and the Pips, Little Richard and Ella Fitzgerald. Inductees are honored with a plaque on the Apollo Walk of Fame, installed under the theater's marquee on 125th Street.