Blue Note Jazz Festival, Vision Fest review
Ron Scott | 6/16/2016, 11:32 a.m.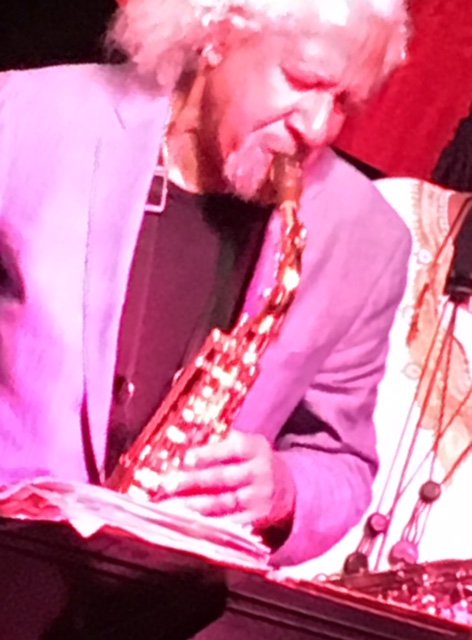 It's not the norm, a jazz gig held at 4 p.m. in the afternoon June 18 at the Blue Note jazz club (131 W. 3rd St.), featuring the renowned poet Sonia Sanchez, accompanied by her friend, the brilliant alto saxophonist/composer Gary Bartz.
"I originally worked with Sonia in Philadelphia with Orrin Evans and we had such a good time we always talked about working together, and finally it's going to happen," said Bartz.
Bartz said he is primarily focusing on Sanchez's poems dedicated to musicians such as Max Roach and Charlie Parker, but he also loves her poem, "Under Soprano Skies."
"Recently, I was commissioned to write music for a collection of Langston Hughes' poems," said Bartz. "Maybe we will use some of those melodies with this project. This is going to be special. We have even been rehearsing."
This performance is a part of the current Blue Note Jazz Festival, now through June 30. Other musicians on board include the Christian McBride Quartet, June 16-17. The pianist/composer Robert Glasper, who is known to mix it up, will hold court at the Blue Note June 21 through June 26, with special guests. The pianist Jason Moran will join him June 23-24.
The eclectic jazz vocalist Al Jarreau performs at Manhattan's Town Hall June 25. Joshua Redman's 4tet plays the Blue Note June 28-30. For a complete listing of the festival, visit the website bluenotejazzfestival.com.
This year is the Vision Festival's 21st anniversary. The music is avant garde—not meant for jazz police or those staunch jazz traditionalists who will not listen to anything by Miles or Herbie Hancock past the early 1960s.Many of these great participants who follow their inner muse rarely play uptown, which makes the Vision Fest all the more significant.
The recent opening night at the Judson Memorial Church in the West Village was a boundless rhythmic swinging celebration of Henry Grimes' lifetime of achievement. The forever exploring bassist/violinist opened in an all-star configuration featuring pianist Geri Allen, cornetist Graham Haynes and drummer Andrew Cyrille. No, there wasn't any rehearsal, and it was the first time they had played together as a quartet, but the music was phenomenal.
When the music is rooted in improvisation, there is little need to rehearse. The ongoing musical conversation was a driving melodic force with Allen's soft serenade undertones or sometimes rumbling cascades of keys dancing up and down, Cyrille's drums, Haynes' in-and-out riffs and Grimes holding it down deep in the midst of it all.
Grimes moved from the quartet explosion to a vocal choir featuring songs by Lisa Sokolov to poems by Henry Grimes, with Karma Mayet Johnson, Dwight Trible and Lee Mixashawn Rozie (replacing Meshell Ndegeocello). Grimes played both the bass and the violin.
He was the background soloist as the vocals ran from talking tongues to tongues talking the blues in a call-and-response sequence. The blues is no "news voices" speak. Light it up. It's about life.
Shhh—listen as Grimes plays the violin, the bass. He was playing life's heartstrings. Feel those vibrations tickling each heart rhythm. It was the melodic rhythm of the words that ignited the brain, signaling some crazy swing thing.