Liberty clip the Wings
Lois Elman | 6/16/2016, 12:33 p.m.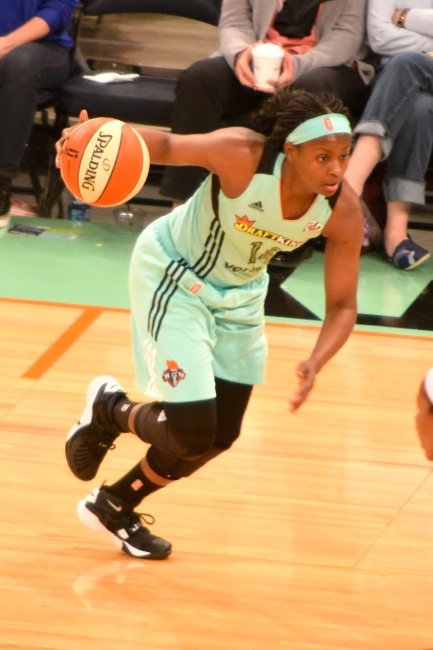 It was the narrowest of victories, but in the closing moments the New York Liberty pulled out a 91-88 home court win over the Dallas Wings. The game was close throughout, but in the end, leadership, hustle, solid shooting and tenacious defense made the difference.
"I thought we had great heart tonight," said coach Bill Laimbeer. "We were tired. We made the big plays down the stretch. Kiah Stokes made some phenomenal defensive plays."
The Liberty were coming off a West Coast road trip and after Tuesday's victory, headed off on an East Coast road trip. Now 6-4 on the season, the team is starting to come together.
"Wanting to close out games better," said post player Tina Charles, who pushed teammates to keep their focus and intensity in the final moments. "There have been a couple of games where we didn't close out the way we wanted to, so knowing we had something to prove."
Charles showed incredible versatility in the win over the Wings—not only getting it done in the paint but also making three 3-pointers en route to 28 points. Early in the game, guard Tanisha Wright passed 1,000 rebounds in her WNBA career.
Tuesday's game began with a moment of silence in recognition of the lives lost in Orlando, Fla. last weekend. Liberty mascot Maddie brought a rainbow pride flag to the center of the court. Earlier in the day, The Player's Tribune published an essay by Liberty guard Shavonte Zellous, a native of Orlando, whose sister was headed for Pulse the night of the massacre but returned home because of a twist of fate.
"We're a team that believes in each other," said Zellous, who contributed nine points, four rebounds and three assists. "To stay focused knowing that we had a very good Dallas team coming in here, it was hard.
"Thank God for basketball," she added. "It gives me an outlet to leave the problems I have outside of the court and be with my teammates. They made everything so easy. When basketball is over, it's back to reality."
The Liberty return to Madison Square Garden next Friday for gay pride night, when they take on the Chicago Sky. Zellous praised the WNBA for encouraging its teams to take part in June pride month festivities.