Muhammad Ali a parallel in history
VINCENT DAVIS | 6/16/2016, 12:30 p.m.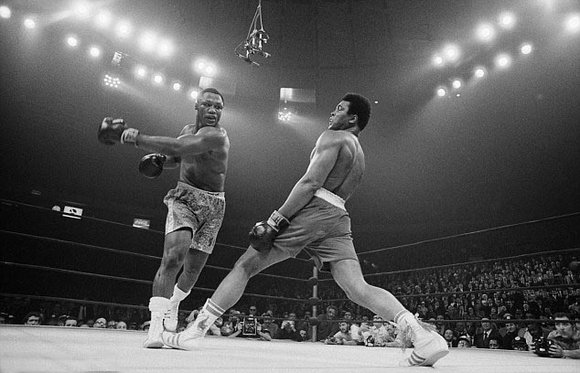 Even in his passing, Muhammad Ali displayed true greatness.
From the worldwide tributes and the continuous programming of Ali archival footage that aired on every network, all throughout the day on the 24-hour sports programmed channels, on social media, to his orchestrated eulogy that highlighted an extraordinary funeral procession, you're reminded that Ali was/is the greatest of all time, and at the same time, a humble man. A man of the people. A dichotomy that the champ earned and owned.
"We're not here because he died," said the Rev. Jesse Jackson. "We're here because he lived."
Ali, born Jan. 17, 1942, in Louisville, KY., set his mark between Dr. Martin Luther King Jr.'s, "I Have a Dream" speech in 1963, and James Brown's anthem of African-American empowerment, "Say It Loud, I'm Black and I'm Proud," in 1968.
His passing gives cause to reflect and analyze significant historic moments of the second half of the 20th century. Some even parallel the life of the world's most famous boxer, who was introduced to the sport as a preteen, when his bike was stolen.
Start with Ali, then known as Cassius Clay, attempting to stand out from all other boxers by simply telling any and everyone who would listen how great of a boxer he was. During a 1989 NBC television special about him, his doctor and one-time corner man, Dr. Ferdie Pacheco stated, "Back then, sports heroes had to be self-effacing, 'aw-shucks' kind of guys. Now, here was a guy who told everybody he was the greatest, and backed it up."
Professionally, Ali not only got into the head, the psyche of his opponents with his antics, but also he was marketing, promoting and hyping himself and his fights. Knowingly or not, he utilized the media— television, radio and print—the way marketers had begun to do in the '60s by bringing recognition to their products. Their strategy was to associate brands with emotional benefits rather than functionality for the consumer. With his mouth, Ali branded himself and touched peoples emotions. They either loved him or hated him.
Changing his name in February of 1964 from Cassius Clay to Muhammad Ali after the 22-year-old defeated Sonny Liston for the World Heavyweight title three months after the assassination of President John F. Kennedy indicated his spiritual awareness and an embrace of Islam. It caused an uncomfortableness among Blacks as well as whites. Islam was as controversial then as it is now.
Drafted in 1967 to fight in the Vietnam War, Ali had the courage to refuse military service, citing religious and humanitarian beliefs, signaling his political awareness.
He didn't seek deferment the way others of means did. He didn't enroll in college or leave the country. He simply refused to be used by the United States to fight a war that he and others believed to be unjust on behalf of the country of his birth—a country that wouldn't fully acknowledge the rights of Blacks to exist equally with whites but still expected him and other Black Americans to fight and sacrifice their lives for it.