Dr. Lonnie Smith, Coltrane at Birdland, African masks
Ron Scott | 6/23/2016, 11:43 a.m.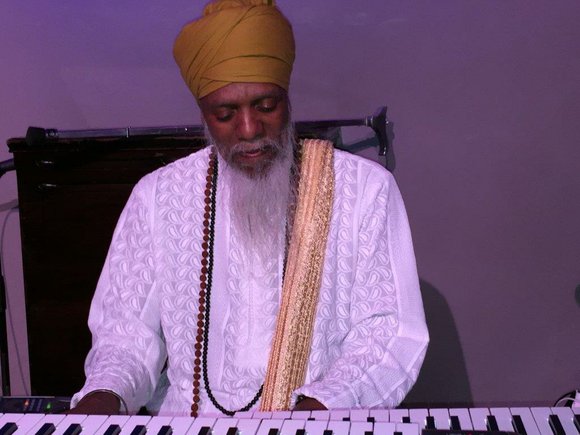 Dr. Lonnie Smith, the ever swinging organist and composer, brings his Hammond B-3 to the Jazz Standard (116 E. 27 St.) June 28 to July 3. Smith's audience prescription for his engagement will be plenty of national hip rhythms from blues to soul and straight jazz, no chaser.
Smith will perform in two configurations, beginning with his trio featuring guitarist Jonathan Kreisberg and drummer Jonathan Blake. His second group, "Evolution," is a resourceful septet with the addition of another drummer, Joe Dyson, trumpeter Maurice Brown, vocalist Alicia Olatuja and saxophonist John Ellis.

"Evolution" is the title of Smith's recently released album (2015) for Blue Note Records, his first album for the label since 1970. The album marked his homecoming to where he began in 1967, as a sideman with alto saxophonist Lou Donaldson on his hit albums, "Alligator Boogaloo," and "Midnight Creeper." Later, as a leader playing his own brand of jazz-funk, he recorded four albums for the label, including his debut classic, "Think!."
Smith has been named one of the National Endowment for the Arts 2017 Jazz Masters Fellows, the nation's highest honor in jazz. Smith along with bassist Dave Holland, vocalist Dee Dee Bridgewater, keyboardist Dick Hyman and writer Ira Gitler have been recognized for their lifetime achievements and exceptional contributions to the advancement of jazz.
On this upcoming engagement, Smith will draw from this latest album, with spirited B-3 sermons, bluesy cascades, heavy grooves and new material with his abled young guns adding to the master's touch. He will perform two shows each night, at 7:30 p.m. and 9:30 p.m. For reservations, call 212-576-2232 or visit the website jazzstandard.com.
The saxophonist/composer Ravi Coltrane visits Birdland jazz club, located at 315 W. 44th St. in Midtown Manhattan, June 28 to July 2, for what will be a stimulating five days of edgy straight-ahead music. "Ravi Coltrane with Friends" will feature his working accomplished quartet of pianist Orrin Evans, bassist Dezron Douglas and drummer E.J. Strickland.


His special guests (on various nights) will include a young lady who has earned quite a reputation on the jazz front, Brandee Younger, on harp, trumpeter Ralph Alessi and trombonist Robin Eubanks. "This is going to be a very exciting engagement," said Coltrane. "I am honored to have these wonderful musicians coming out."
Regardless of what Coltrane has out in the marketplace, you can be sure he will be trying out some new material and improving on previous released music. "Spirit Fiction" was released on the Blue Note label in 2012. He also records himself and others on his own independent label RKM.
Sets are every evening at 8:30 p.m. and 11 p.m. For more information, visit the website birdlandjazz.com.
African masks have always had a direct link to the continent's culture and historical roots. Most relate to the masks as forms of voodoo to cast spells on people or scare them. These masks were an essential part of African traditional culture, with spiritual and religious meaning, used in ritual dances, religious and social events.