Harlem congressional candidates square off for Rangel's seat
Herb Boyd | 6/23/2016, midnight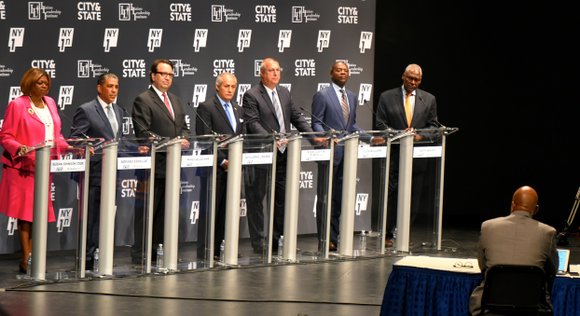 With Congressman Charles Rangel looking on, seven candidates Monday evening debated who was the best qualified to replace the 46-year veteran leader of the 13th Congressional District. According to the reaction from the audience at Hostos College, Assemblyman Keith Wright and State Senator Adriano Espaillat won the overall cheer meter.

Wright was particularly effective in listing the number of prominent endorsements he had received, including Bronx Borough President Ruben Diaz Jr., though Rangel was not mentioned. Wright also leaned a bit on his pedigree, as Adam Clayton Powell Jr. would do later, but it was his recitation of accomplishments in Albany that was most telling.
"I have passed over 90 pieces of legislation in the Assembly," he told moderator Errol Louis of NY1, which aired the debate. "I have chaptered more than 35 pieces of legislation signed by the governor. So all I've been doing is working to get things done with a majority state senate."
Espaillat, who was narrowly defeated by Rangel two years ago, answered the question about his ability to work with Republicans by noting that he was successful during the years when George Pataki's administration was in power. "I was in the Assembly with a Republican-run Senate, to pass in-state tuition for undocumented students, which was the prelude of the Dream Act. We were able to do that in 2002 with a Republican governor and a Republican-led Senate."
The Rev. Suzan "Sujay" Johnson Cook asked if she could respond to the question that was mainly directed at those candidates who had held office. "As the ambassador in Washington for the U.S. Religious Freedom, I attended Senate Foreign Relations Committee meetings," she began. "You have to be able to build coalitions, and when we go to Congress, that's what we have to be able to do. Work certainly with the Black and Hispanic caucuses that are there, but also build coalitions throughout, so that we can get legislation passed." During her closing statement, she stressed again the pioneering trail blazed by the late Congresswoman Shirley Chisholm, "and I stand on her shoulders," she added.
There was an attempt by one of the panelists to spark some turmoil when Guillermo Linares, the former councilman and state legislator, was reminded that he supported Rangel in the last election and not Espaillat. For this act the Espaillat camp called him a traitor to the Dominican community. Linares didn't deny his vote but took the opportunity to explain that he wasn't merely running as a Dominican. "The 13th Congressional District is one of the most diverse districts in the nation," he explained, "and I want to represent all of the people."

During the lightning round, Linares was alone among the candidates in his opinion that Police Commissioner Bill Bratton should not resign. Like Linares, Powell has been a state legislator and a city councilman, and he believed this experience was the kind of background a representative to Congress would need to get the job done. "In the City Council," he explained, tackling the differences between the operations in the City Council and the Assembly, "the budget process, for example, is more open, and delegations would [go] and come back, and there was a back and forth … in the Assembly, the budget is just three men in a room."