LeBron keeps his word leading Cleveland to the NBA championship
Jaime C. Harris | 6/23/2016, 11:48 a.m.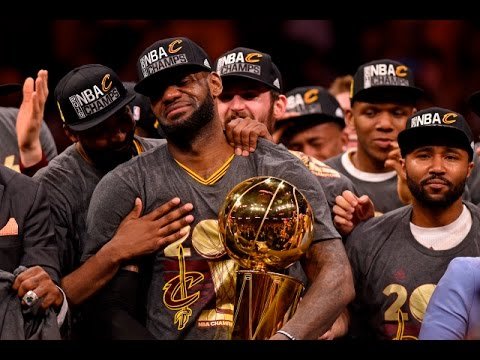 "And He rested on the seventh day from all His work which He had done"—Genesis 2:2
The Chosen One has delivered! And yes, LeBron James rested, but not until he capped perhaps the greatest series ever by a single NBA player with 27 points, 11 rebounds and 11 assists in Game 7 of the Finals to carry the Cleveland Cavaliers to a 93-89 victory and the franchise's first title.
James' return to Cleveland was prophesized in the basketball gospels. In the Book of James, it was foretold that a boy born in Ohio would grow into a mighty man, flee the city of Cleveland for less pressurized expectations in Miami and after the brief exodus to South Florida dramatically reemerge back home in the summer of 2014 to lead the Cavaliers and the city of Cleveland to the Promised Land.
"I'm coming home with what I said I was going to do," an emotional James expressed after the series clincher. "I can't wait to get off that plane, hold that trophy up and see all our fans at the terminal."
So after being parched for 52 years, suffering disappointment after disappointment, the city of Cleveland, which had not celebrated a championship by one of its major sports franchises since legendary running back Jim Brown ran the 1964 Browns to an NFL title, has experienced salvation. James, Ohio's prodigal son who was born and raised in Akron, held true to the covenant to end the misery shared by the state's starved fan base, particularly those in the northeastern region, where Cleveland and Akron are located and separated by a mere 40-minute car ride.
The 31-year-old James was unearthly in averaging a mind-blowing 29.7 points, 11.3 rebounds, 8.9 assists, 2.6 steals and 2.3 blocks in spearheading the Cavaliers' historic comeback from a 3-1 series deficit against the shell-shocked Warriors. No other team has accomplished such a feat.
Teams that were up by at least 3-1 in the Finals went on to win the series 32 times versus zero defeats. But in the last three games James refused to be denied his destiny, averaging 36.3 points, 11.7 rebounds, 9.7 assists, 3 steals and 3 blocks to capture his third Finals Most Valuable Player award.
Of course any epic story has both a hero and his trusted partner. Kyrie Irving filled the latter role, thoroughly outplaying back-to-back regular season MVP and counterpart Stephen Curry in the deciding game. The 24-year-old Irving, who struggled to gel with James on the court for most of the two seasons they have played together, scored 26 points to Curry's 17, and bottomed a 3-pointer over Curry with 53 seconds left that buried the Warriors. On the basketball's biggest stage, Irving became one of the sport's most spectacular stars.
He and James are now soaking up their well deserved glory and sharing it with a city that at last can rightfully call itself a champion.