NY comrades celebrate Sister Afeni Shakur's life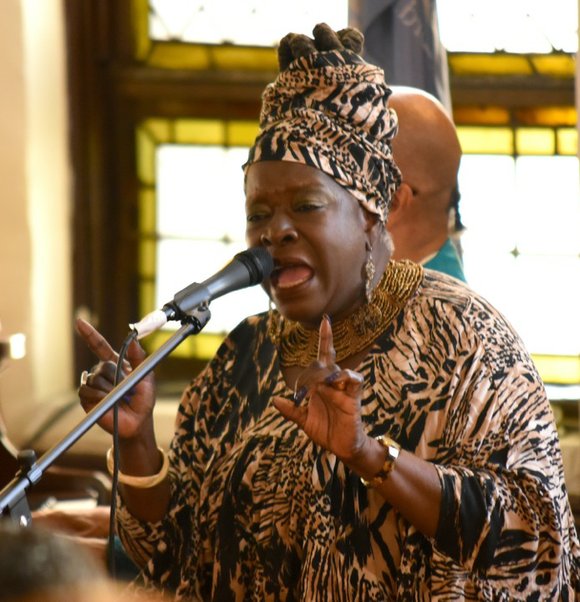 Just two days after the 45th anniversary of when Afeni Shakur gave birth to her son, Tupac Amaru Shakur, in Harlem, many of her relatives, Black Panther Party comrades and other friends paid homage to her legacy during a memorial at Brooklyn's House of the Lord Church, 415 Atlantic Ave., this past Saturday (June 18). The historic temple was at three-fourths capacity, with many attendees wearing traditional Black Panther buttons, as the community displayed their respect and bid Shakur farewell.
Shakur, 69, became an ancestor May 2 after reportedly suffering a heart attack at her Sausalito, Calif., home.
Because her relatives had already conducted private memorial services last month in California as well as in her birth-town of Lumberton, N.C., her extended family felt that the place where she acquired some of her sense of African culture and political awareness also have the opportunity to pay their final respects to her.

The Rev. Herbert Daugherty recalled Shakur bringing a young Tupac and his younger sister, Sekyiwa, to his church services throughout the 1970s and early '80s before detailing how their relationship grew throughout the years. He added how she regularly made substantial financial contributions to his church, without fanfare.
"She was a super person, a member of this church with two parts and that was the love that she had," he stated.
Elected activist Charles Barron recalled working alongside her during their years as Black Panthers and how she magnetized the general public with her activism.
"I always admired her," said Barron. "Afeni organized 40,000 people in Harlem during our drives." He then led repeated chants of "Long live Afeni Shakur!" as the audience rose to their feet. He thanked her for being a great mother to her two children and a strong Black Panther. "We are eternally grateful for your contributions," he concluded.
Pamela "TJ" Hanna, a member from the BPP's Queens chapter added, "Tupac got his inspiration from his mother and her comrades. He was raised by a specific group of people who had revolutionary ideas. That's what made him so special."
Afeni's nephew, Antwon Robinson, recalled how she was always stern, yet also loving, with him during his youth and how the Panthers nurtured his family.
"They were revolutionaries, but they were also parents," he noted.
"She was brilliant, she was erratic, she was gorgeous, she had lots of energy," said Kathleen Cleaver, the BPP's former communications secretary. "This is someone who graduated from performing arts. So essentially she was a very gifted teenager who wanted to be an actress, but she ended up a revolutionary."
One of Shakur's codefendants in the infamous Panther 21 frame-up, Jamal Joseph, recalled her activism.
"She energized the BPP with her love of the community and her incredible organizing skills," Joseph said. "She mentored and taught young Panthers and young people across the country. She is truly a mother of the hip-hop generation and an inspirational light to the artist movement.
"Afeni, herself was a poet. So when we heard Tupac's poetry, for those of us who knew Afeni, it made sense that this young man who had grown up around the BPP with a mom who was an artist, would become a talented artist himself. It was her poetic nuances that gave her the ability to craft her moving piece, 'A Letter to My Unborn Child,' while on trial in the Panther 21 case."
Joseph then introduced the IMPACT Repertory Theatre, which inspired the audience with their performance.
Sekou Odinga recalled becoming acquainted with Sister Shakur during the late 1960s:
"She was a very strong, dynamic, beautiful and curious sister who asked a lot of questions and always wanted to learn."
Dhoruba bin Wahad, another BPP comrade, said, "Here's to our comrade. We stand on the shoulders of those who came before us, who were at the forefront of our struggle. She was ready for whatever. She had that effervescent spirit. When the guns were drawn, she was there."
Activist/poet Sonia Sanchez greeted the audience with "All power to the people!" She then shared, "I thought of a tear. I thought of all the people that made transitions, and I thought of Sister Afeni." She heaped praise on her friend.
Actress and playwright Danai Gurira is portraying Afeni Shakur in "All Eyez on Me," the upcoming biopic about her son.