Loretta Abbott—Dance was her life
ZITA ALLEN | 6/27/2016, 3:11 p.m.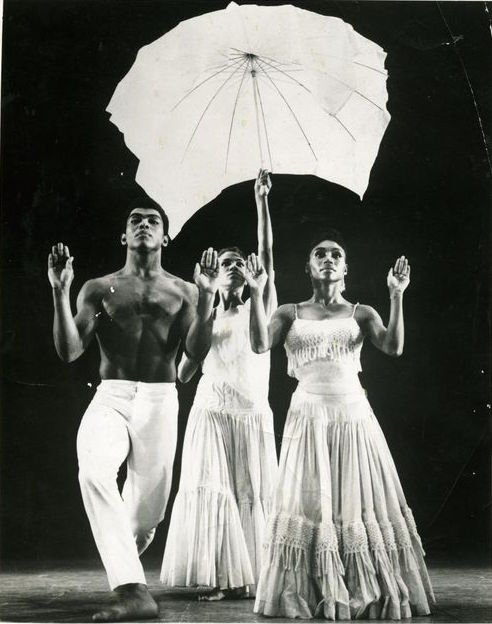 An iconic photo from a 1960s performance of Alvin Ailey's masterpiece "Revelation" captures a man and woman walking forward side-by-side. He is bare chested and wears white pants. She wears a long flowing white dress. Behind them, a woman holds aloft a large white umbrella in one hand while stretching the other above their heads as if anointing them. She is Lucinda Ransom. The man is Alvin Ailey. The woman beside him in the "Wade in the Water" baptismal segment of "Revelations" is Loretta Abbott.
On opening night of the Alvin Ailey American Dance Theater's 2016 Lincoln Center summer season, Artistic Director Robert Battle sadly announced "Loretta Abbott, a beloved member of the Ailey family passed away a few days ago." Calling Abbott "one of the foundation builders" of the Ailey Company, Battle dedicated the season's special opening performance in her honor.
Harlem native Loretta Abbott was a dancer, actress, singer, choreographer and teacher whose career spanned most of her 80-plus years and included performing with the AAADT and numerous other modern dance companies and choreographers, on TV, on Broadway and in cabaret shows. She once told an interviewer that she started dancing when she was just 3 years old. She trained with such noted teachers as Thelma Hill and James Truitte, two original Ailey company members, and the legendary Pepsi Bethel and Henry La Tang. Her career reflected the versatility so critical for Black dancers of her generation, whose passion could otherwise have been thwarted by race-based rejection and limited opportunities. She worked with an impressive roster of choreographers and dancers, including Talley Beatty, Fred Benjamin, Carmen de Lavallade, Jean Leon Destine, George Faison, Martin Gordon, Louis Johnson, Donald McKayle, John Parks, Al Perryman, Michael Peters, Eleo Pomare, Abdel Salaam, Otis Sallid, Paul Sanasardo, and Andy Torres. She was a founding member of the George Faison Universal Dance Experience. In fact, Faison created his critically acclaimed work "Gazelle" for Abbott and featured her in another memorable work, "Poppy." She performed both on Ellis Haizlip's popular 1970s TV show "Soul" on PBS.
Since her passing was announced, friends, fellow dancers and fans have shared countless photos and comments on Facebook and other social media sites, as well as in e-mails. Dancer Dyane Harvey recently shared a treasure trove of memories, writing, "Larry Phillips, founder of the Thelma Hill Performing Arts Center adored Loretta's work and commissioned Abdel R. Salaam to create 'Ebony Magic, the Life and Legend of Marie LaVeau' with Loretta in the leading role as Marie." Harvey also recalled a 1980s cabaret act, "Stompin' at the Savoy" and a piece choreographed by Pomare based on Langston Hughes' writings titled,"Simple Speaks His Mind," saying, "It was hilarious!"
Abbott's Broadway career was also impressive. According to a Playbill for the 1980s musical "Amen Corner," for which Abbott was dancer, dance captain and choreographic assistant, her Broadway show credits were extensive. She danced in the 1983 revival of "Purlie," the original production of "Porgy and Bess," "Reggae," "Raisin," "Two Gentlemen of Verona," "La Strada," "To Be Young, Gifted and Black" and many more. She also toured with her own solo program, "Women of Color," and appeared in the film version of "The Wiz." She also danced in the original production of Nanette Bearden Dance Company's "On the Block" (after Bearden), choreographed by Walter Rutledge. Recently, Abbott was an active member of a group devoted to collecting and preserving the history of a major dance institution, Clark Center for the Performing Arts. In fact, according to Jill Williams, the very first event that the Clark Center NYC steering committee presented was an interview with Abbott at the Schomburg.