LaGuardia Community College's program for deaf adults celebrates 40th anniversary
Trudy Tomlinson | 6/30/2016, 9:36 a.m.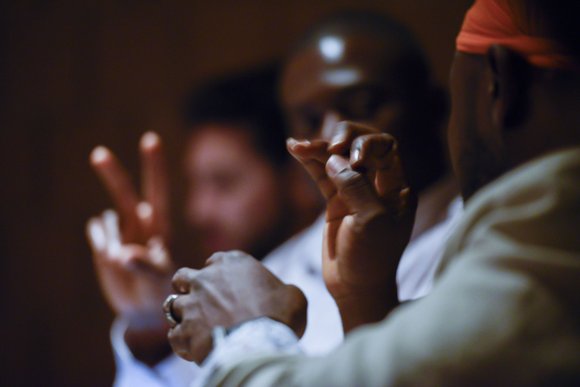 The Program for Deaf Adults at LaGuardia Community College marks 40 years of helping deaf and hard-of-hearing students pursue their higher education goals with classroom interpreters, tutors, note takers, classes taught in American Sign Language and testing accommodation support, as well as academic, personal and job development advisors and other support services.
The largest, most comprehensive postsecondary program for deaf and hard-of-hearing students in New York, the LaGuardia Community College PDA offers dozens of courses and workshops every year, in addition to support services. More than 10,200 LaGuardia students have been served by the PDA in the past 10 years.
"We're extremely proud of our 40-year legacy serving the deaf and hard-of-hearing community," said Dr. Gail O. Mellow, president of LaGuardia Community College. "We're dedicated to meeting every student pursuing their higher education exactly where they are—whether this means helping them improve their basic math or reading skills, scholarship support or services that allow deaf and hard-of-hearing students to attend our classes and programs—using the latest tools and technologies that ease their participation."
The PDA supports both students pursuing an associate's degree, with special sections of basic skills reading and writing taught in ASL, and students in LaGuardia's certificate programs, such as high school equivalency, adult basic education, driver's education for deaf adults and more.
"The services I received were very good and included topnotch sign language interpreters," said Aleksandr Rozentsvit, who emigrated to the U.S. from Russia at age four and graduated from LaGuardia in June 2015 with an associate's degree in liberal arts. "The services I received from the Program for Deaf Adults helped me succeed in a hearing classroom environment. I met many inspirational professors and made new friends, in both the deaf and hearing communities."
The PDA offers an ASL-English Interpretation Program, a rigorous academic program that prepares ASL-fluent individuals to become ASL-English interpreters, with tracks for students pursuing a bachelor's degree and for those seeking a professional certificate. U.S. Department of Education scholarships are available for ASL-English Interpretation students who are pursuing interpreting in educational settings.
Philip Wilson, who completed the AEI program in 2011 and is now an educational interpreter in a program for deaf students at a public high school in the Bronx, lauded the program. "I feel privileged to be a graduate of this program."
"Celebrating the 40th anniversary of our program has motivated us to reflect on the number of students we've helped to accomplish their educational and employment goals," said Sasha Ponappa, acting director of LaGuardia's PDA. "As well, it's an opportunity to congratulate our faculty and staff for their support and commitment.As a result, our students often tell us that the program has become their second home. We will continue to empower and challenge students to further their educational goals, and to meet the changing requirements of today's workforce."
LaGuardia Community College located in Long Island City, Queens, educates more than 50,000 New Yorkers annually through degree, certificate and continuing education programs. Our guiding principle, Dare To Do More, reflects our belief in the transformative power of education—not just for individuals, but for our community and our country—creating pathways for achievement and safeguarding the middle class. LaGuardia is a national voice on behalf of community colleges, where half of all U.S. college students study. Part of the City University of New York, the college reflects the legacy of our namesake, Fiorello H. LaGuardia, the former new York City mayor beloved for his championing of the underserved. Since our doors opened in 1971, our programs regularly become national models for pushing boundaries to give people of all backgrounds access to a high-quality, affordable college education. We invite you to join us in imagining what our students, our community and our country can become. Visit www.LaGuardia.edu to learn more.