Liberty celebrate 20 years with fanfare
Lois Elfman | 6/30/2016, 10:15 a.m.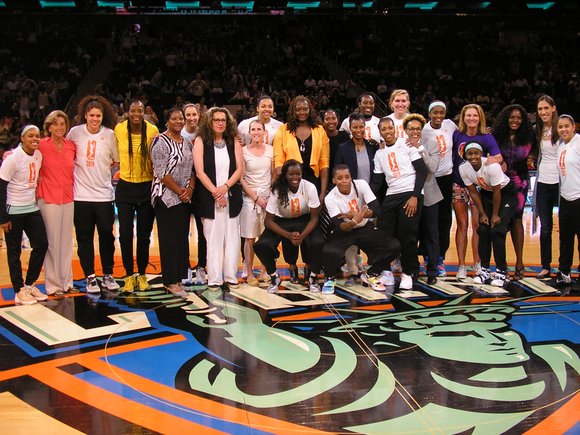 "We've found our chemistry," said New York Liberty guard Sugar Rodgers after the Liberty's tough 104-97 OT loss to the Phoenix Mercury. "It felt good seeing all the old players who paved the way for us to be here today. Getting to know some of them … was fun. It would have been nice to get the win for them."
Before the start of the game, the Liberty were joined on court by members of the 1997 team: Rhonda Blades Brown, Cassandra Crumpton-Moorer, Simone Edwards, Kym Hampton, Vickie Johnson, Rebecca Lobo, Jasmina Perazic-Gipe, Trena Trice-Hill, Teresa Weatherspoon, Sue Wicks and Sophia Witherspoon, as well as former General Manager Carol Blazejowski and original WNBA President Val Ackerman.
"It's always nice to look back on the history of the league and see who paved the way and be able to interact and see the differences between then and now," said Liberty guard Tanisha Wright. The current players joined the alumnae for dinner Saturday night.
"It was good to see the history those players have built for us," said guard Shavonte Zellous, who had 13 points and six assists in Sunday's game. "You could tell all of them were excited to see each other. They paved the way for us, and we give them honor."
Although the Liberty were out-hustled and out-finessed by the Mercury, they remained upbeat on what has been a strong season to date. Sitting atop the Eastern Conference at 10-5 and with Tina Charles having an MVP-worthy season, there is a lot to feel good about.
"We are [in good shape]," said Charles. "We know what we have to clean up—them being on the free-throw line [the Mercury took 33 free throws] and little things like that."
Friday, the Liberty hosted Pride Night and extended its winning streak to six games with a tight 80-79 win over the Chicago Sky before a crowd of more than 10,000. The game marked the return of guard Rebecca Allen, who had a strong debut in 2015, but suffered a season-ending knee injury just two games into the season. She scored eight points and pulled down two rebounds in the victory over the Sky.
The Liberty are on the West Coast this weekend and return to Madison Square Garden July 6 against the Seattle Storm.