Super Tuesday: What to watch
By Eric Bradner, CNN | 3/1/2016, 10:04 a.m.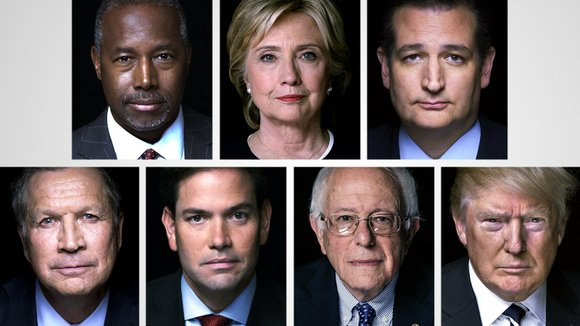 (CNN) -- Super Tuesday is here, and as the presidential race goes national, Hillary Clinton and Donald Trump are hoping to put themselves way ahead. Ted Cruz and Marco Rubio need strong turnouts to show they can fight Trump over the long-term. And Bernie Sanders hopes to stem Clinton's momentum with a few wins of his own.
Voters of both parties in Alabama, Arkansas, Georgia, Massachusetts, Minnesota, Oklahoma, Tennessee, Texas, Vermont and Virginia go the polls or caucus Tuesday. Democrats also caucus in Colorado and Republicans will do the same in Alaska.
Here's what to watch on the biggest day yet in the 2016 race:
How completely will Trump dominate?
Trump is cruising nationally -- with 49% support compared to Rubio's 16% and Cruz's 15% in a new CNN/ORC poll, giving him his largest lead yet.
He's likely to blow out the competition in Massachusetts, Tennessee and Alabama, polls there show.
But it's also possible Trump could win all 11 states -- or come close to it. And if he does, it would leave other Republicans with very little hope of catching up.
Cruz and Rubio have spent recent days leveling a dizzying array of charges against Trump. Cruz has raised his decades-old ties to mafia bosses who controlled New York's construction industry and prodded Trump to reveal what he told The New York Times in an off-the-record conversation about immigration. Rubio has hammered Trump as a "con artist," pointing to his hiring of undocumented immigrants on construction projects and his namesake university. And Trump ran into trouble when he failed to disavow the KKK and white supremacist David Duke to CNN's Jake Tapper.
If Trump runs the table on Super Tuesday, or comes close, it'll be yet more proof that attacks and insults -- true or not; subtle or direct -- only make him stronger.
It'll also leave him with a massive delegate lead and a weakened crop of competitors.
The biggest day of Ted Cruz's political career
He hasn't been shy about it: Ted Cruz says Super Tuesday is "the most important day in the entire election."
After days of relentlessly building expectations, the pressure is now on the Texas senator to perform.
The first big question: Does he win Texas -- and by a big margin? If Cruz loses his home state, it will be both embarrassing and mean he's in for a very though night nationwide, leaving him with no path forward in the campaign.
The second big question: Does he win anywhere else?
Cruz's strategy of racking up Southern and evangelical votes has been wrecked by Trump. Now, Cruz is trying to win delegates wherever he can. Four states could represent Cruz's best hopes: Oklahoma and Arkansas, his two neighboring states; Alaska, with its libertarian streak; and Georgia, a delegate-rich state that all three leading contenders see as in play.
He's also looking over his shoulder at Rubio. If Cruz wins Texas and at least one more state, and Rubio doesn't notch any Super Tuesday victories at all, it would put the Texas senator in much better position to argue that he is the true Trump alternative in the field.