6 takeaways from Super Tuesday
By Eric Bradner, CNN | 3/2/2016, 9:18 a.m.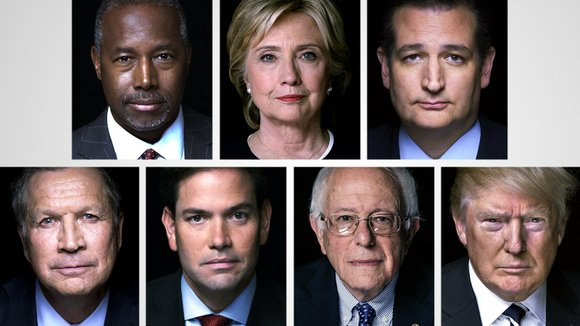 (CNN) -- Donald Trump and Hillary Clinton didn't win their parties' nominations on Super Tuesday -- but they both became much harder to beat.
Trump racked up wins in seven states to Texas Sen. Ted Cruz's three and Florida Sen. Marco Rubio's one. And Clinton defeated Vermont Sen. Bernie Sanders in seven of the 11 Democratic contests.
Here are six takeaways from the biggest day in the 2016 presidential race so far:
The Trump coalition comes together
He proved it in the early states and now he has proven it on Super Tuesday: Donald Trump is leading a coalition.
New Hampshire and Massachusetts showed he wins white, working-class moderates -- the Reagan Democrats. South Carolina, Tennessee, Alabama and Georgia showed he wins evangelicals in the Bible Belt. And record-shattering Republican turnout in Virginia showed he expands the party's base of voters.
"I'm a unifier --- I know people are going to find that a little bit hard to believe, but believe me," Trump said.
Trump is running away with the GOP nomination, as his rivals continue their never-ending fight about who's the best alternative.
He survived the latest controversy, this one over whether he'd given a subtle wink to white supremacists by deflecting questions about whether he'd disavow former Ku Klux Klan grand wizard David Duke in an interview with CNN's Jake Tapper.
And he bested two opponents who'd devoted an entire two-hour debate Thursday night to dumping their opposition research books on his head.
After an introduction by former rival and new campaign surrogate New Jersey Gov. Chris Christie, Trump congratulated Cruz on an "excellent win" in Texas before turning his attention to Hillary Clinton.
"Make America great again is going to be much better than making America whole again," he said, referencing her new attack line.
Clinton rolls up wins in the South
It's the polar opposite of where Clinton found herself eight years ago. This time, she's ahead in the delegate race and has won a majority of the Democratic contests.
Clinton won a swath of delegate-rich Southern states with large minority populations, easily besting Sanders in Texas, Georgia, Virginia, Alabama, Tennessee and Arkansas. And she won the night's biggest toss-up, narrowly defeating Sanders in Massachusetts. The Massachusetts win, in particular, showed that it's not just a minority firewall for Clinton -- she can win states that are predominantly white.
The Democratic nominating contest allocates delegates proportionally, so Clinton hasn't knocked Sanders out of the race.
But she has a date in mind to do just that: March 15.
With all of the momentum, Clinton is aiming for wins in a series of big states -- Michigan on March 8 and then Florida, Ohio, Illinois, North Carolina and Missouri on March 15.
At that point, the scenarios for a Sanders comeback become "less and less likely," Clinton spokesman Brian Fallon said -- even though the campaign expects to lose in Kansas, Nebraska and Maine between now and then.