Oscar boycott party held at Harlem's Shrine
NADINE MATTHEWS | 3/3/2016, midnight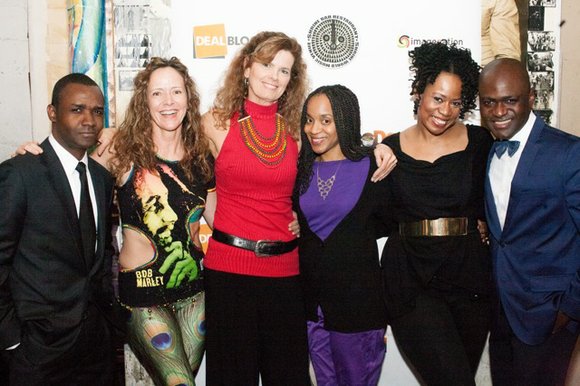 Consistent with what many would want the Academy Awards to actually be, a diverse group of New Yorkers came together at Harlem's Shrine World Music Venue on Feb. 28 to celebrate the year in Hollywood film and pay homage to movies made by or with Black actors, writers and directors.
Officially called the "Harlem Oscar Boycott Party," it was the brainchild of writer, producer and co-owner of cultsha.com Christine Scott and filmmaker Nedhege Ptah. Attendees and the community at large were able to vote for their picks using an online feedback platform called Ideacoil, which was created by brothers and engineers Price-Mars Delly and Laurent Delly. Scott, who is Caucasian-American and said she agreed this type of event was needed.
"When I heard the nominations announced and I heard for the second year in a row films made by or about or with people of color were not included, I thought it was a travesty in some respects because there were so many films this year that were worthy of nomination. Last year when Ava DuVernay was not nominated for 'Selma,' I felt there was an injustice done. Then this year when certain films were not nominated, I thought that it was an obvious disregard for the creative influence that Black filmmakers, artists and actors contribute to Hollywood."
The afternoon ceremony was no staid affair, with plenty of R&B and hip-hop pumping and down-home Caribbean and soul food on the menu.
As part of the festivities, Ptah's film "Dodo Titi," about a Caribbean nanny's dignified struggle to uphold her cultural traditions, was screened. The focus remained on taking a stand and having fun while doing so. Party attendee and Harlem resident Uygar Dogan commented, "I thought it was a bit curious how not even one African-American artist was nominated for an Oscar this year because there have been some amazing movies made this year. I decided OK, there is one place I can come and make my voice heard."
Kathy Bayer, a co-producer of "Dodo Titi," also shared her thoughts. Asked if events like these amounted to a new type of segregation as some detractors might argue, she replied, "In terms of segregation, the situation is we are segregated. We can't pretend we're not so what are we gonna do to fight it? It's not really working to just try and get together and talk about it. It's not happening. That's why there has to be actions like this, and I just think that unless people start to take action, nothing's gonna change, and I feel that we all have to get out there and support whether it affects us directly or not."
Bayer added, "I also feel that there are a lot of really excellent actors and really excellent films that were not included in the Oscars this year. Top quality writing, acting, producing and directing. There's too many qualified people, and this is too obvious an exclusion."
Addressing another argument used by some, event host Lisa Durden, herself a producer and TV personality, gave a passionate response to questions regarding those who feel that Blacks are asking for awards based on race as opposed to merit.