Oscar boycott party held at Harlem's Shrine
NADINE MATTHEWS | 3/3/2016, midnight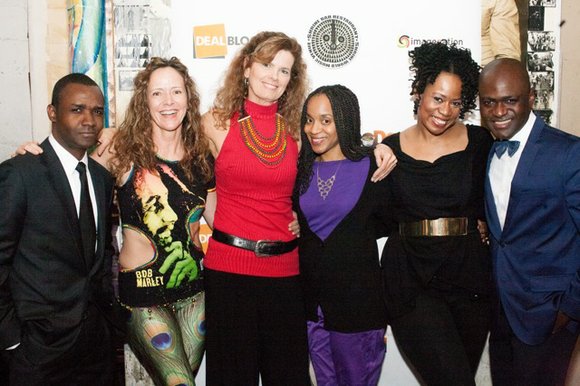 "I'm not gonna say that every single film that we were in was great. But not every single film that white folks produced, that white folks were in, was good, but they got nominated. So let's get down with the real get down. We've only gotten 32 Oscars on 88 years in all categories. And let's get real clear, who goes to the movies? Black people, Latinos, people of color. We are the ones making all the movies big." As of last year's Academy Awards, a total of 2,947 awards have been given since the ceremony's inception.
Ptah, who first came up with the idea of the Harlem Oscar Boycott Party, explained her reasoning behind it.
"It's just galvanizing the community around this important topic that's happening in the industry. I really believe what Ava DuVernay is saying. Let's stop talking about diversity. It's about inclusion."
Regarding the statuettes given to the winners, Ptah explained that they are called (incidentally) Ptahs, not Oscars.
"Instead of us giving them the Oscar, we're gonna take it back to its essence, back to its roots. We're gonna call it the Ptah Award and are gonna send these awards to the actors and directors that the community voted for."
Ptah, according to Wikipedia, was an Egyptian deity thought to be God of the arts, among other things. Many have alleged that the statuette traditionally distributed to winners at the Academy Awards was derived from representations of this god. Nedhege Ptah indicated that she felt the event was indicative of a new level of consciousness about diversity issues.
"It's not only Black people here. As you can see, it's an inclusion of folks. It's not the Black folks that are concerned about the boycott, but it's also white folks. The fight is not so much we're doing the Ptah Awards just focusing on Black films, but it is if somebody gives you a lemon, you gotta make lemonade. If somebody closes a door on you, you gotta open another door."
And the winners of the first ever Ptah Awards were:
Best Actor or Actress: Will Smith, "Concussion"
Best Supporting Actor or Actress: Idris Elba, "Beasts of No Nation"
Best Director: Ryan Coogler, "Creed"
Best Picture: "Beasts of No Nation: