Seton Hall seniors focus on postseason
Lois Elman | 3/3/2016, 11:34 a.m.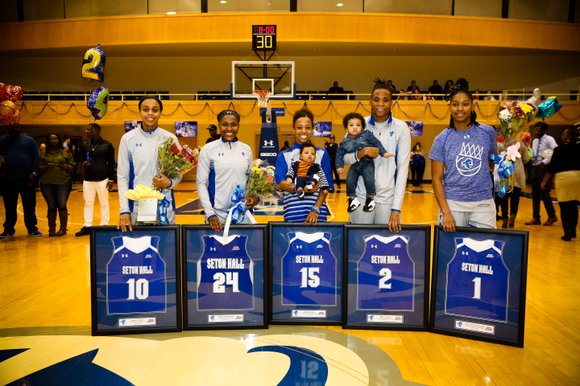 This past Sunday marked senior night, the final regular season game of the season, at Seton Hall University.
The Pirates' seniors each traveled different paths to reach this moment. For the team's leading scorer, Tabatha Richardson-Smith, it has been four years as a Pirate, seeing the program go from less than 10 wins a season to a national powerhouse.
Post player Tiffany Jones, a New York City native, has finally delivered on the promise she showed when she came to Seton Hall after attending ASA in Brooklyn.
For the Pirates' two point guards, Aleesha Powell and Shakena Richardson, it was a more circuitous path. Richardson previously attended Rutgers and Florida State before coming to Seton Hall as a graduate student. Powell played for coach Anthony Bozzella at Iona College in New Rochelle and opted to follow him to Seton Hall to finish out her collegiate eligibility.
"It was a great feeling to finish out my college career somewhere where I'm appreciated," said Powell, who feels her mental toughness increased this year. "It's really cool [to play for Bozzella again]. We have such a great relationship. It's great to be able to start my career with him and end it with him."
Powell said the team's chemistry didn't come easy. There were definitely some issues as they got to know each other, but realizing time was precious, they worked hard to find unity.
The season started with an eight-game winning streak and a national ranking. Big East conference play was a bit tougher, but the Pirates finished 12-6 and have the third seed in this weekend's Big East tournament.
"Each game and each practice, our chemistry definitely got stronger," said Powell, who prides herself in being a strong communicator. "We learned each other a lot better—what spots we wanted the ball in, how we needed to talk to each other, how everybody played together. We were able to figure that out. It's still developing, hoping that we peak in the most important game thus far, which is the Big East championship.
"I honestly think we're unstoppable when we do everything we're supposed to do," she added. "When we're playing defense the way we're supposed to play it, moving the ball in offense together as team and having fun, we're a force to be reckoned with."