Lawsuit takes aim at Mississippi state flag
By Tessa Carletta and Catherine E. Shoichet, CNN | 3/8/2016, 1:32 p.m.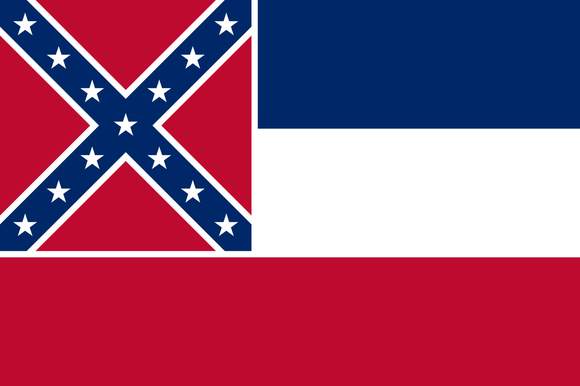 (CNN) -- Carlos Moore had his 5-year-old daughter in mind when he filed a federal lawsuit over the Confederate symbol on their state flag.
"I don't want the next generation to go through this," Moore told CNN. "I can take it ... but I'm concerned about her generation."
Moore, a 39-year-old attorney, is suing Mississippi and its governor, arguing that the state flag and its design "are discriminatory and racist in nature." And he's hoping others will rally behind him at a demonstration Tuesday outside the state's Capitol.
Mississippi's flag includes the Confederate battle emblem in its upper left corner.
Moore told CNN he decided to take matters into his own hands after the legislature failed to get 19 bills to remove or redesign the flag out of committee.
Gov. Phil Bryant, he said, hasn't taken growing calls to change the flag seriously.
Bryant's office has not responded to CNN's request for comment. A spokesman for Bryant told CNN affiliate WREG that the lawsuit was a "frivolous attempt to use the federal court system to usurp the will of the people."
Jim Hood, the state's attorney general, has said he thinks the flag should be changed but also vowed to defend the state in court.
"Although I have stated my opinion on the flag," he said, "that has no effect whatsoever on my duty to defend the state."
Charleston shooting spurred renewed calls for change
Mississippi's flag is the last state flag that still contains the Confederate battle emblem.
In 2001, Mississippi residents voted to keep the flag's current design.
Renewed calls to change it surged last year after the massacre of nine African-Americans at a church in Charleston, South Carolina, brought the issue back into the spotlight. Shooter Dylann Roof apparently revered the flag as a symbol of white supremacy.
In October, the University of Mississippi removed the state flag from its campus. Some Mississippi cities have voted or issued executive orders to remove the state flag from city property since the Charleston shooting. Others have voted to keep it flying.
The City Council in the state capital, Jackson, which hasn't flown the state flag on city property in more than a decade, voted in July to urge the state to create a new flag, CNN affiliate WAPT reported.
Lawsuit: Flag is 'hate speech'
Moore's lawsuit asks a federal court to issue an injunction stopping the state from flying the flag and to rule that the flag's design is unconstitutional.
The flag, Moore argues, means that he and other African-Americans "are subjugated to second class status."
"Plaintiff fears for his safety and the safety of other African-Americans because of the state sanctioned hate speech communicated through the current state flag which has been shown to incite racial violence and terror both within the state of Mississippi and in a sister Southern state with a similar history of racial discrimination and involuntary servitude better known as slavery," the lawsuit says.
In addition to the Charleston church shooting, Moore said several recent events fueled his decision to file the lawsuit.
First, a statue of civil rights leader James Meredith was found on the University of Mississippi campus in 2014 with a noose around the neck and draped in a Confederate flag. And the last straw for Moore, he said, was when a man set off an explosive device in a Walmart in Tupelo, Mississippi, last year because the store was discontinuing the sale of any item containing the rebel flag.
Last month, Bryant issued a proclamation declaring April Confederate Heritage Month in his state.
"Mississippi's history deserves study and reflection, no matter how unpleasant or complicated parts of it may be," his office said at the time.
CNN's Eliott C. McLaughlin contributed to this report.