Brownsville case dismissed: relief, revulsion and reflection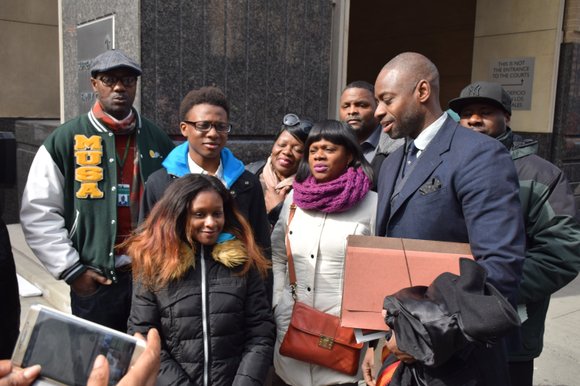 In the same breath that families of five falsely accused rape suspects embraced their teenage sons in the wake of Brooklyn District Attorney Ken Thompson dismissing the assault charges against them last Thursday, calls to investigate the father for allegedly having sex with his daughter came thick and fast.
Many people close to the case, though, told the Amsterdam News that to save the traumatized 18-year-old woman further distress, the DA would not investigate her father.
"I saw some men pointing out the father the other day, and they asked him, 'Why would you lie on these kids? Why would you sleep with your daughter?" said Linda Murray-Melcherts, mother of Denzel Murray, the youngest of the accused youths. "They should arrest him. People were saying that's the man that lied on those boys, and was sleeping with his child."
The story goes that the teen, who appears to be a victim all the way around, was fostered out since the age of 2 and only came back to live with her father last summer. The word is that the young Latina may be somewhat troubled.
News broke Sunday, January 10 that five youths came upon a father and daughter Jan. 7 in Osborn Playground, Brownsville, at night. The story widely reported and inciting the city was that the five boys, 14 to 17 years of age, chased the father away at gunpoint and gang-raped the 18-year-old daughter. The five boys were arrested within a couple of days. They were Denzel Murray, 14; Shaquell Cooper, 15; Ethan Phillip, 15; Onandi Brown, 17; and Travis Beckford, 17.
But soon after the horrific tale broke, and some people figuratively lit torches and headed out to find the accused, the young lady completely recanted her story, saying, "There was no rape, no gun."
The DA moved quickly to dismiss the case against the boys. As outraged community members and elected officials demanded that the DA investigate and charge the father for incest and for falsely accusing the five youths, his office told the press that, ultimately, the daughter would need to identify and accuse her father, but "she refuses to cooperate."
Thompson told the Amsterdam News, "It is my fervent hope that this young woman gets all the support that she needs going forward. My office, including our victim advocates who have been working with this young woman, stands ready to provide her with any assistance she may need."
Last Monday, the Amsterdam News was in court as the judge dismissed the case against all five accused youths. The families were happy. One of the lawyers, Spencer Leeds, slammed the NYPD, the DA's office and the media for defaming the young men and the rush to judgement, which led to sensational headlines that virtually called for their heads.
Even though in January Thompson had initially stated that he would take until July to investigate the case, within six weeks, not months, he announced that he would be dismissing the case because the "complainant, as well as her father, provided multiple inconsistent accounts to NYPD detectives and to experienced Special Victims prosecutors about important material facts in this case." Thompson further stated, "The complainant has recanted her allegations of forcible sexual assault and the existence of a gun, and she does not wish to pursue criminal charges against any of the defendants. She also refuses to cooperate with any prosecution against her father, who was engaging in sexual conduct with her."