Ramarley Graham's family and supporters call for firing of officers
3/10/2016, 3:30 p.m.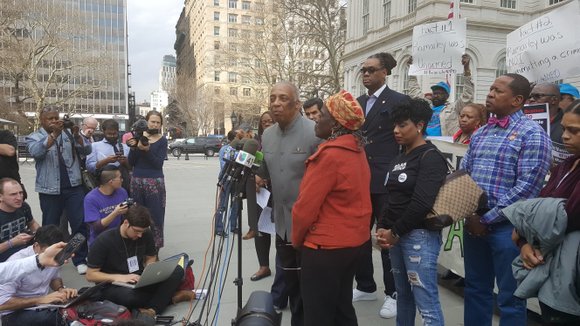 Two days after U.S. Attorney Preet Bharara announced he would not pursue charges against the officers responsible for killing Ramarley Graham, Graham's parents and supporters turned their attention to Mayor de Blasio and NYPD Commissioner Bratton, demanding they fire all the officers involved in the killing and subsequent treatment of the family and incident.
None of the officers responsible for busting into Ramarley's home without legal justification, killing him, threatening, assaulting and mistreating his family members after his killing, and giving false information about the events have been held accountable by the NYPD. Officer Richard Haste, who shot and killed Graham, is still employed by the NYPD and has received multiple salary increases of nearly $25,000 over the four years since he killed Graham.
"After four years, there has been no justice or accountability – NYPD officers murdered our son in his home," said Constance Malcolm and Franclot Graham, the parents of Ramarley Graham. "He was doing nothing wrong, he should have been safe at home. NYPD busted in without a warrant and then abused and intimidated members of our family while releasing misleading and inaccurate information about the killing. The criminal justice system on the local and federal levels have failed to demonstrate a commitment to valuing and protecting Black lives. Mayor de Blasio and Commissioner Bratton are part of this injustice and devaluing of Ramarley's life as long as they allow these officers to continue receiving paychecks as NYPD employees."
As part of the family's demands, national civil rights organization, ColorOfChange, launched a petition aimed at Mayor de Blasio.
On the February 2nd fourth anniversary of Ramarley's killing this year, his parents hand-delivered a letter to City Hall calling for the firing of all the officers involved. Commissioner Bratton has previously asserted that the Justice Department requested the NYPD hold off on its disciplinary process for the officers. However, the Office of U.S. Attorney Preet Bharara denied that request ever occurred in its meeting with the family, the Justice Committee and Communities United for Police Reform on Tuesday, March 8. History also demonstrates that such a restriction on the NYPD taking disciplinary action is not based on anything outside of the city's power. After the 1994 police killing of Anthony Baez, the officer who killed him was dismissed from the NYPD after being acquitted in state court of killing Baez and before he was indicted by the federal Department of Justice.
The unarmed 18-year-old Ramarley Graham was killed by NYPD Officer Richard Haste in front of his grandmother and 6-year-old brother after officers unlawfully busted into their home without a warrant or legal justification on February 2, 2012. Immediately after shooting Graham, Officer Haste cursed and threatened to shoot his grandmother. She was then separated from her six-year-old grandson who had just witnessed his brother being killed, and questioned for seven hours while refused access to a family legal representative. When Ramarley's mother arrived at the precinct to ask what had happened to her son and find her grandmother, she was assaulted by officers. The City "misplaced" Ramarley's body for four days after he was killed.
A Bronx grand jury indicted Haste on two counts of manslaughter in May 2013, but Judge Steven Barrett dismissed the indictment due to a prosecutorial error made by the Office of Bronx District Attorney Robert Johnson. On August 8, 2013, a second grand jury decided not to re-indict Haste, but the U.S. Justice Department indicated it was reviewing the case. The office of U.S. Attorney Preet Bharara would not acknowledge it was fully investigating the killing until September 2014, after Ramarley's parents – with support from New Yorkers from across the city – delivered over 33,000 petitions to Bharara and the Justice Department demanding a full investigation.
Bharara's decision to not act – announced on Tuesday, March 8 – came four years after Ramarley was killed and over two years since his office began reviewing the case. The meeting where he revealed the news to Graham's family came only after Ramarley's parents and supporters held an all-night vigil on the steps outside of Bharara's Manhattan office to demand justice.
The killing of Ramarley Graham has been part of calls for justice from around the country amongst the police killings of Black and Latino civilians. In April 2014, the chairs and members of the New York State Black, Puerto Rican, Hispanic & Asian Legislative Caucus and the New York City Council Black, Latino & Asian Caucus sent letters to Attorney General Eric Holder requesting an official investigation by the Department of Justice into the death of Ramarley Graham.
Constance Malcolm – the mother of Ramarley – was one of several family members of New Yorkers killed by police, who led advocacy efforts that moved Governor Cuomo to issue an executive order to authorize a special prosecutor for police killings of civilians. The executive order is not retroactive, and the families' efforts were intended to advance justice for New Yorkers who may face similarly tragic circumstances in the future.