Obama nominates Merrick Garland to Supreme Court
By Kevin Liptak, Ariane de Vogue and Manu Raju, CNN | 3/16/2016, 10:43 a.m.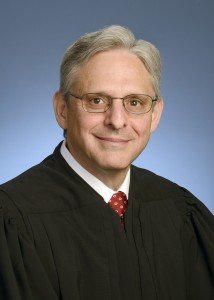 WASHINGTON (CNN) -- President Barack Obama nominated Merrick Garland to the Supreme Court Wednesday morning, setting up a dramatic political fightwith Senate Republicans who have vowed to block any replacement for the late Justice Antonin Scalia.
Garland, 63, the chief judge for the U.S. Court of Appeals for the District of Columbia Circuit, has been on short lists before. An appointee of President Bill Clinton, Garland is a graduate of Harvard and Harvard Law School. As a Justice Department lawyer, he supervised investigations in the Unabomber case as well as the Oklahoma City bombing.
Senate Republicans do not plan to vet or have hearings on Garland, and say the next President should be able to choose Scalia's replacement. Obama and Democrats argue that with 10 months left in his term, there is plenty of time for the Senate to take up and confirm a new justice.
In a speech in the White House Rose Garden, Obama praised Garland as "one of America sharpest legal minds."
Obama's announcement amplifies the ongoing political battle over the precedent and propriety of considering a Supreme Court nomination amid a heated presidential election.
The announcement comes after a big night in the 2016 election, with both party's front-runners -- Democrat Hillary Clinton and Republican Donald Trump -- emerging with sweeping victories as they march toward their respective nominations. Some believed Obama would time his pick so it wouldn't get lost in a news cycle dominated by election results. But the timing seems suited to directly insert the selection into the political conversation.
Who is Merrick Garland?
Born Nov. 12, 1952 in Chicago, Ill
Currently Chief Judge of the United States Court of Appeals for the District of Columbia Circuit
Graduated valedictorian from Harvard College
Was a National Merit Scholar
Married wife Lynn in 1987
Has two daughters who are both at Yale
Fueling the argument is the potential for the first shift in the court's ideological leaning in two decades. If confirmed, Obama's nominee will likely offer a vastly different legal outlook that Scalia, who was considered one of the court's most conservative members.
At 63, Garland is much older than the other contenders on the short list such as Judges Sri Srinivasan, Paul Watford and Jane Kelly. Garland's supporters argue he is the nominee that the senators couldn't refuse even in a contentious environment.
Obama has said his goal was to find a "consensus candidate."
"It is my intention to nominate somebody who has impeccable credentials, somebody who should be a consensus candidate," Obama told CNN en Español anchor Juan Carlos Lopez in an interview last week.
This is Obama's third nomination to the high court. Sonia Sotomayor and Elena Kagan were confirmed in 2009 and 2010, respectively. But those confirmation hearings and votes occurred when Democrats were firmly in control of the Senate.
All eyes on Senate Republicans
Since Scalia's death and for the foreseeable future, the court has operated with eight justices, four appointed by Democrats and four by Republicans.