A clean sweep for Clinton
Herb Boyd | 3/17/2016, 4:42 p.m.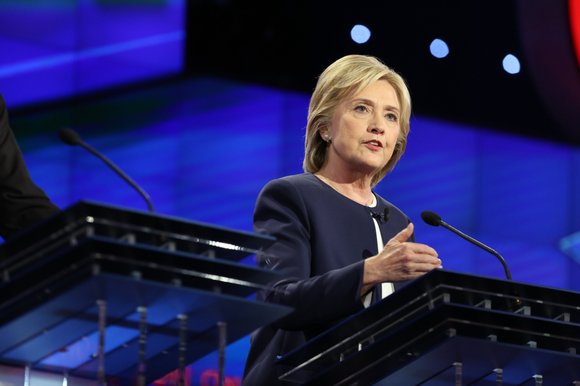 If the second Super Tuesday in the Democratic presidential primaries was viewed as a game of pool, then Hillary Clinton ran the table on Sen. Bernie Sanders. The best thing for Sanders was to have won big in the five states. The worst thing was to lose them. He lost them.
It was no contest between the contenders in Florida, North Carolina, and Ohio, where Clinton won by double digit margins. She eked out closer victories in Illinois and Missouri, each by one or two percent margins.
Her victory in Ohio—she garnered 57 percent to Sanders' 43 percent—was the most eventful since it compares closely to Michigan in which Sanders upset Clinton last week. Clinton was overjoyed in her victory speech from West Palm Beach, Florida, not too far from where Donald Trump would deliver a similar burst of triumph.
"Tonight it's clearer than ever that this may be one of the most consequential campaigns of our lifetimes," Clinton told a jubilant throng of supporters, after thanking the voters in the various states, "the next president will walk into the Oval Office in January and sit down at that desk and start making decisions that will affect the lives and the livelihoods of everyone in this country, indeed, everyone on this planet."
Hardly a sentence left her mouth that wasn't greeted by loud approval, and after she congratulated Sanders on running a strong campaign, she channeled her remarks to the GOP, mostly to Trump.
"Our commander in chief," Clinton declared, "has to be able to defend our country, not embarrass it, engage our allies, not alienate them, defeat our adversaries not embolden them. When we have a candidate for president call for rounding up 12 million immigrants, banning all Muslims from entering the United States, when he embraces torture, that doesn't make him strong, it makes him wrong."
She emphasized unity and "breaking down barriers, not building walls," again referring to Trump's bluster and bombastic plans. "We can't lost what made America great in the first place," she added. "And this isn't just about Trump, all of us have to do our part. We can't just talk about economic inequality, we have to take on all forms of inequality."
Her comments about inequality was a snarky snap at Sanders, referring again to his being a single-issue candidate.
Meanwhile, Sanders addressed his supporters in Arizona, already looking down the road to next Tuesday's election there.
"The reason that we have defied all expectations is that we are doing something very radical in American politics," Sanders said. "We are telling the truth."
One truth that is becoming more imminent is his inability to stop Clinton's drive for the nomination. And that tale is told in numbers with Clinton at 1599 delegates, both pledged and super, and Sanders with 844.
The big news from the GOP camp is the announcement that Sen. Marco Rubio has suspended his campaign, following his defeat in Florida, his home state. Like Clinton, Trump came close to running the table, only losing Ohio to John Kasich, the state's current governor. Nonetheless, Trump leads Sen. Ted Cruz in delegates 661 to 406, with 1,237 needed to secure the nomination.
For Sanders to get a fresh breeze of momentum, he will need to take the primaries and caucuses from Arizona, Utah and Idaho next week. Much further on the horizon are the big number states of New York, California, Pennsylvania and New Jersey.
Given the proportional allocation of delegates, Sanders will have to get those massive wins. All Clinton has to do is to maintain close races to gather her share of the delegates to add to her total and acquire the 2,383 needed when she arrives in Philadelphia in July.
There's a good chance that Clinton will keep her advantage with African-American and Latino voters in the coming elections as well as maintain her edge with white voters. And if the elections are closed with independents not allowed to vote (and Sanders has done well during these open elections), she should continue in the slog toward the nomination.