Prosperous physical day to Abiodun Oyewole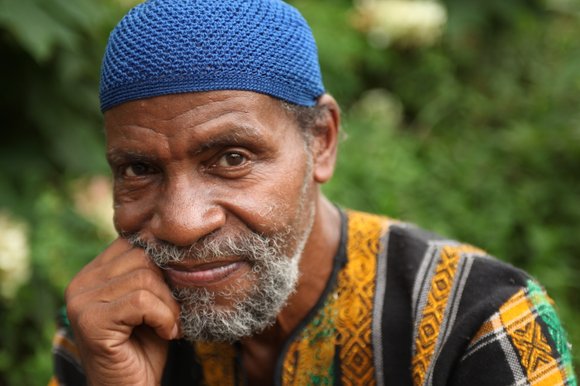 A couple of comrades of astute artist and ghetto griot Abiodun Oyewole commemorated the 68th anniversary of his physical birth on Thursday, Feb. 25 by reflecting on his significant contributions and immeasurable legacy. As a hip-hop progenitor and founding member of the Last Poets, he and his comrades kicked revolutionary rhymes that became the soundtrack for the Black Power era and also laid down the foundation for the revolutionary hip-hop generation that they helped spawn.
"Abiodun is a brother from Harlem who has always been at the forefront of the movement," explained longtime colleague TaharQa Aleem, who recalled meeting Oyewole back in the late 1960s. "I've always had a great deal of respect, admiration and love for Abiodun and the Last Poets."
Although original people have been rhythmically breathing over hypnotic percussion patterns for time immemorial, the Last Poets were one of the first to put poetry in a song format with bars and hooks.
Inspired by progressive poets Amiri Baraka, Nina Simone, Harlem's Black Arts Movement and musician John Coltrane and Malcolm X, among others, the Last Poets also aligned with numerous revolutionary creative forces of that time period.
May 19, 1968, the 43rd anniversary of Malcolm X's physical day, Oyewole, along with David Nelson and Gylan Kain, recited poetry as a tribute to Malcolm X at a memorial for him in Harlem's Mount Morris Park (now Marcus Garvey Park), thus the birth of the Last Poets.
"I was blessed to go all the way back to the '60s with him, because I remember when the Last Poets were working on a project with Jimi Hendrix called 'Doriella Du Fontaine,'" TaharQa reminisced, also mentioning when he and his twin brother, Tunde Ra, then known as the Ghetto Fighters, were part of Hendrix's Band of Gypsies. "To know that Jimi was working with them was great, and I happened to be with them when that was happening, and they recorded that song."
As a practitioner of the Yoruba way of life, Oyewole infused socially conscious messages in song. Deeply rooted in Black Nationalist philosophy, the Last Poets critiqued the injustices Americanized Africans endured daily in the land of the free.
Songwriter and music composer Edwin Birdsong expressed the significant role Oyewole played in taking art to another level, before saying, "Wish you a happy birthday, brother, and many more!"
"Niggers Are Scared of Revolution," off their self-titled debut album (1970), became an urban anthem that soon sparked other artists.
Oyewole's rhythm and poetry influenced a host of MCs from hip-hop's formative years on through its golden era. Groups such as Public Enemy and Dead Prez cite him as a major influence on their art.
For the past several decades, Oyewole has conducted weekly open house poetry readings, where he constructively critiques upcoming poets as they display their art in his living room, helping to nurture them.
He has also conducted classes at Columbia University, where he teaches creative writing.
Oyewole continues to tour worldwide, performing his classic material with other members from the Last Poets, and also continues giving lectures about poetry and sociopolitical issues.
TaharQa explained how he and Tunde Ra recorded "Super Horror Show" with Oyewole at their studio during the 1980s before saying: "This is my birthday gift to him, 'It's chillah, thrillah and sho' enuff a killah! Happy birthday, my brother!"
For more information about the open house poetry sessions, contact poeetabiodun@yahoo.com.