Civil rights legend Myrlie Evers-Williams receives Doctorate of Humane Letters from CNR
Herb Boyd | 3/19/2016, 1:18 p.m.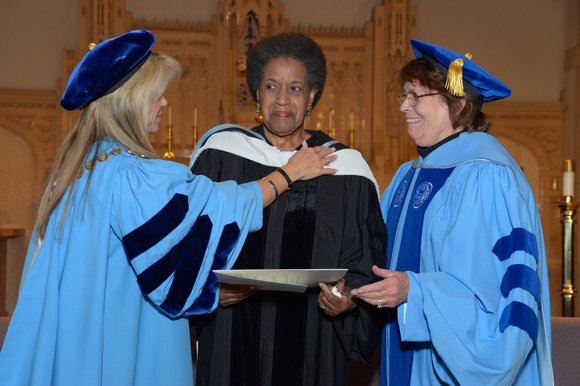 From the moment she walked into the Castle at the College of New Rochelle, Myrlie Evers-Williams was accompanied by a cluster of admirers and well-wishers. The cluster at this academic convocation last Thursday would be there until she stood alone behind the podium to express her gratitude as a recipient of a Doctor of Humane Letters.
Such was the honor given to the widow of civil rights icon Medgar Evers, who was shot and killed in the driveway of his home in 1963. That instance of martyrdom is deeply imprinted in America's annals. It certainly lives with Evers-Williams each passing day, especially during momentous occasions such as this one.
"I thank you for the honor you bestow on me," Evers-Williams said after being introduced by the college's president, Judith Huntington, who read portions of the guest's impressive resume. Evers-Williams praised the college and the work it was doing to "delve into the mysteries" of our nation's history.
"With a college like the College of New Rochelle, you have an opportunity here on campus and in this community to take advantage of the best education possible," said Evers-Williams, repeating some of the advice she had given at an earlier event at the college.
After recalling the sacrifices of the other civil rights activists, she told the audience of students and faculty assembled in the Holy Family Chapel that America was her country "and one can take that away from me."
Those familiar with Evers-Williams speeches and books, particularly her memoir, "Watch Me Fly: What I Learned on the Way to Becoming the Woman I Was Meant to Be," with Melinda Blau (Little Brown and Company, 1999). She described the book as an "instructive autobiography," and that it is, and that guidance is often a critical part of her speeches and addresses.
Among her many awards, citations and honorary doctorates, Evers-Williams was the first layperson and first woman to deliver the invocation at a presidential inauguration three years ago. In 2014, after serving several years as the chairperson of the NAACP, she launched the Myrlie Evers-Williams Institute for the Elimination of Health Disparities, a research arm of the Office of Population Health at the University of Mississippi's medical center.
For more than 30 years, she was relentless in her pursuit of justice for the murder of her husband. (Her second husband, Walter Williams, also a civil rights activist, died of cancer in 1995. He was 76.) That moment finally arrived in 1994, when, after two trials had hung juries, white supremacist and Klansman Byron De La Beckwith was convicted of the crime. He died in prison in 2001.
But the future was at the heart of Evers-Williams' acceptance speech, and once again she offered useful guidance to the young people in the audience.
"May we never stop learning. May we never stop growing. May we never cease to embrace the hope and goodness in mankind," she concluded.
Bracketing her remarks were inspiring moments of music by Dominique Smith and her rendition of the National Anthem and B. BrVon Neal and a closing benediction by Tyrone Davis, director of the Office of Black Ministry, Archdiocese of New York.