Family and supporters of Akai Gurley hold angry rally outside the office of Brooklyn DA Thompson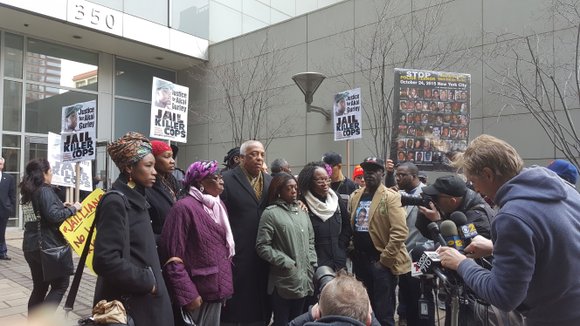 "You betrayed our community D.A. Ken Thompson. Your decision to recommend that the police officer found guilty of shooting Akai Gurley should serve no jail time - is like killing him again," so stated Assemblyman Charles Barron.
At a loud and angry press conference in Downtown Brooklyn on a chilly Thursday afternoon; family, friends and supporters of the cop-slain Akai Gurley blasted Brooklyn District Attorney Kenneth Thompson for recommending that convicted former NYPD cop Peter Liang serves no jail despite his manslaughter conviction.
"Who got to you D.A. Ken Thompson?" demanded Brooklyn Council Woman Inez Barron.
Last month, the city was rocked when Laing was found guilty of killing the young father he shot in the stairwell of Louis H. Pink Houses housing development in East New York, Brooklyn.
With tears streaming down the face of Gurley's girlfriend Melissa Butler, her attorney Roger Wareham decried as a "failure of courage" Thompson's recommendation that on sentencing day rather than consider the possible 15-years, Justice Danny Chun just give Laing six months of home confinement with electronic monitoring, 5 years probation, and 500 hours of community service.
"It's a slap in the face!" said Hertencia Petersen, Gurley's aunt as she told theAmsterdam News that the D.A. told the family by phone "after the news media had it, and it was all over social media."
"Peter Liang was indicted, prosecuted and subsequently convicted by a jury because his reckless actions caused an innocent man to lose his life," Thompson said in a statement. "There is no evidence, however, that he intended to kill or injure Akai Gurley. When Mr. Liang went into that building that night, he did so as part of his job and to keep the people of Brooklyn and our city safe."
"Ken Thompson have you lost your mind? Don't ever come to us for anything," warned Council Woman Inez Barron. "We will come to you for a lot – because we are revolted by your actions, and we will not forget."
In February, Liang was convicted for the 2014 shooting of Gurley inside the Pink Houses. Gurley entered a stairwell while Liang and another officer were doing vertical patrol. Liang, on the floor above, fired his weapon into the darkened stairwell as Gurley came through a door, killing him.
While Gurely's family and supporters were relieved at last month's verdict, hundreds in the Asian community gathered at Cadman Plaza and claimed that Liang was being used an "Asian scapegoat" because white officers in similar cases were not even indicted.
This protest caused unresolved contention with the Black community, which argued that Liang's supporters were in effect demanding white privilege.
Both Assemblyman Charles Barron and Council Woman Barron were amongst the speakers who promised that on sentencing day, the family and supporters would pack the court room, and in the meantime demand that the judge hold Laing accountable, and consider substantial jail time.
"The D.A. actually reversed himself," Assemblyman Barron said. "He got the indictment, said he was guilty of at least manslaughter, got the conviction, and then turns around and says he should serve his time at home?!"