Family and supporters of Akai Gurley hold angry rally outside the office of Brooklyn DA Thompson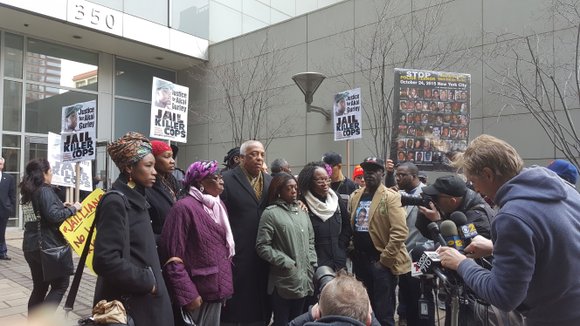 Breaking down in tears, Hertencia Petersen told the Amsterdam News, that Thompson informed Gurley's mother, Sylvia Palmer by phone as she made her way home caught in traffic. "He didn't even have the decency to call us in as a family and tell us face to face. What kind of disrespect is that?"
Petersen, Palmer and Gurley's stepfather, Kenneth Palmer, said in a statement that they "were outraged at District Attorney Thompson's inadequate sentencing recommendation. Officer Liang was convicted of manslaughter and should serve time in prison for his crime. This sentencing recommendation sends the message that police officers who kill people should not face serious consequences. It is this on-going pattern of a severe lack of accountability for officers that unjustly kill and brutalize New Yorkers that allows the violence to continue.
"District Attorney Thompson was elected on the promise that he would not allow officers to act as if they are above the law and that he would help restore confidence in the justice system. His sentencing recommendation is a betrayal of that promise and sends the message that officers can continue to kill Black New Yorkers without consequence.... The district attorney's inadequate recommendation diminishes what Peter Liang did. It diminishes Akai's death.
"Our commitment to see justice will not waiver. On April 14 … we hope that Judge Chun will take seriously the crimes for which Peter Liang was convicted and appropriately sentence Liang to serve time in prison."
"DA Thompson's sentencing recommendation for Peter Liang is disappointing, an abdication of justice, and sends the wrong message, once again demonstrating the double standard police officers who violate the law face compared to civilians," Monifa Bandele, spokesperson for Communities United for Police Reform stated. "It contradicts his previously expressed commitment to uphold justice for all people in Brooklyn, and this preferential treatment that reduces accountability for fatal crimes committed by police officers contributes to the continued unjust killings and brutality by police in our communities. Thompson's recommendation once again demonstrates that there is no equal justice, and further exemplifies why a special prosecutor is essential for police killings. District attorneys have historically been unwilling to complete the task in these cases, failing to equally hold police officers accountable to the law – DA Thompson showed he is part of that failure."
"Ken Thompson where ever you go, we should be there," warned Assemblyman Barron, as he told the Amsterdam News that there will be a Day of Outrage planned for Dr. Martin Luther King's April 4 anniversary outside D.A. Thompson's Downtown Brooklyn 350 Jay Street office. For more details, call 718-399-1766.