Harlem's Black nuns celebrate 100 years of service
TRUDY TOMLINSON | 3/24/2016, 4:05 p.m.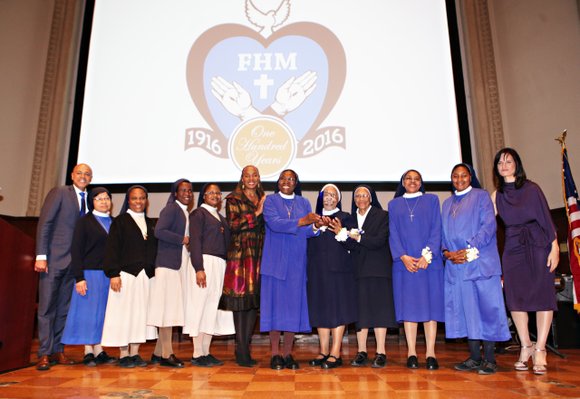 "These are the youths we want to work with. And we also move on to give them supportive housing, whether it is supporting them with finances to move on to get their education and acquire skills because it's what they need to be respectful and fulfilling citizens."
Honorees at the gala included National Urban League President and CEO Marc H. Morial, vice chairman and executive director of the Jazz Foundation (and Street News Founder) Wendy Oxenhorn, Rep. Rangel, National Action Network President and founder the Rev. Al Sharpton and Bishop Edward Kenneth Braxton of the Diocese of Belleville, Ill. Essence magazine Editor-in-Chief Emerita and founder and CEO of the National CARES Mentoring Movement Susan L. Taylor will present the Centennial Award to the Franciscan Handmaids of the Most Pure Heart of Mary at the event, which included performances by Tony and multiple Grammy Award-nominated artist Melba Moore and Broadway actress and singer Carmen Ruby Floyd, as well as special celebrity guest appearances. WNBC-TV anchor David Ushery hosted along with radio and television personality G. Keith Alexander as announcer.
"We are looking forward to celebrating these wonderful honorees who have provided important services to the community throughout the years," said Sister Ihenacho.
"We are happy for their participation and stand revitalized in purpose, renewed in the Spirit and ready for the next century of service."
Proceeds of the benefit will help the order provide scholarships to needy children to attend and revitalize the St. Benedict Day Nursery, which services children ages two to four and will help train the next generation of sisters.
"We are hoping a lot of people will come to the gala to show support because we have worked in this community for 100 years," stated Sister Ihenacho. "The Lord has helped a lot of people through us. We are hoping a lot of people will come out and show support so that we can push forward with these initiatives."
Tickets to the 6 p.m. Centennial Gala range from $150 to $1,000 for special seating and access to all events of the evening, which include a pre-reception, celebration program, dinner and dessert reception. Sponsorship packages are available from $10,000 to $100,000.
The New York Academy of Medicine Conference Center is located at 1216 Fifth Ave., between 102nd and 103rd streets, in East Harlem. For tickets and more information, visit www.passionforsocialjustice.com or email FHMCentennial@gmail.com.