Obama visits Cuba
Herb Boyd | 3/24/2016, 10:07 a.m.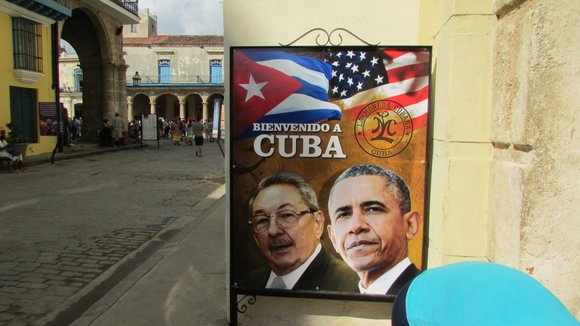 President Barack Obama and President Raul Castro of Cuba, in less than an hour of a historic meeting, continued the process toward normalization between nations only 90 miles apart geographically but much farther apart politically.
The two leaders appeared to be at ease as they greeted each other in the Palace of the Revolution in Havana Monday. Fifteen months ago, they began resuming diplomatic relations in hopes of finding some common ground on the issues of democracy and human rights.
"This cooperation is beneficial not only for Cuba and the United States," Castro said during his opening remarks, "but also for our hemisphere at large. Following the decisions made by President Obama to modify the application of some aspects of the blockade, Cuban enterprises and their American counterparts are working to identify possible commercial operations that could materialize in the still restrictive framework of existing regulations."
Several minutes into his nearly half-hour speech, Castro touched on the subject at the center of relations between the U.S. and Cuba, human rights. "We defend human rights," the Cuban leader said. "In our view, civil, political, economic, social and culture rights are indivisible, interdependent and universal."
After noting his government's defense and the assurance of rights to health care, education, social security, equal pay and the rights of children, Castro said, "We oppose political manipulation and double standards in the approach to human rights."
Obama began his comments by greeting the audience, including nearly 40 members of Congress, Democrats and Republicans, as well as Secretary of State John Kerry and National Security Advisor Susan Rice. In Spanish, the president said it was a "nuevo dia," a new day, between the two countries.
But before he could get to the core of his speech, he offered his good wishes and condolences to the family of Marine Staff Sergeant Louis F. Cardin of Temecula, Calif., who was killed in northern Iraq Saturday after a rocket attack by ISIS, or ISIL. "I just wanted to give my thoughts and prayers to the family there and those who have been injured," he said.
He also noted that there were a number of Cuban-Americans in the delegation, "and for many, this is a time of new hope for the future," he added.
There were several moments of levity—mention of his family accompanying him and the fact that the Castro brothers were famous for their long speeches—before he began discussing some of the "serious differences" between the U.S. and Cuba. He said that he and Castro had begun some frank and candid conversations on the subjects of democracy and human rights. There are apparently no plans for Obama to meet with Fidel Castro, who continues to state his distrust of the normalization process. But Obama is scheduled to meet with dissidents and their leader, Bertha Soler.
Obama praised the Cuban government for its enormous achievements in education and health care, but "I made it clear that the United States will continue to speak up on behalf of democracy, including the right of the Cuban people to decide their own future," Obama said.