Obama visits Cuba
Herb Boyd | 3/24/2016, 10:07 a.m.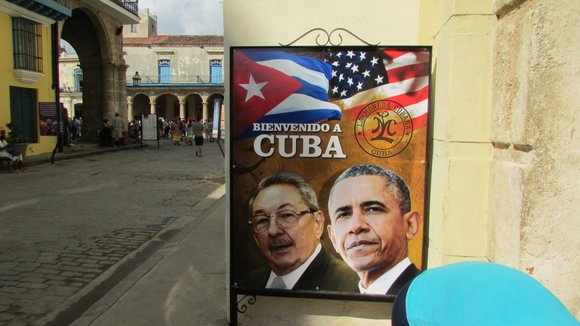 As part of normalizing relations, Obama said that "means that we discuss these differences directly." He added, "So I'm very pleased that we've agreed to hold our next U.S.-Cuban human rights dialogue here in Havana this year. And both of our countries will welcome our visits by independent United Nations experts as we combat human trafficking, which we agree is a profound violation of human rights."
Although Obama was pleased to announce a baseball game between the Cuban national team and the Tampa Bay Rays, nothing was said about Guantanamo Bay. It was good to hear the president invoke the name of Jose Marti, the great Cuban revolutionary, although he failed to cite any of the freedom fighter's famous words. And in the same context, Black Americans would have appreciated hearing the name Antonio Maceo, the Afro-Cuban hero during the nation's war of independence.
The leaders only fielded a couple of questions apiece, with Castro having difficulty with the translations and his headphones because he was speaking through an interpreter. Two questions came from Jim Acosta, CNN's senior correspondent and Andrea Mitchell of MSNBC, which gave Obama an opportunity to expound on the embargo. As he had said earlier, "I continue to call on Congress to lift the trade embargo. …We urge Cuba to show that it is ready to do more business, which includes allowing more joint ventures and allowing foreign companies to hire Cubans directly."
Rep. Charles Rangel said, "I have been an advocate for ending the embargo since 1993, when I first introduced my Free Trade with Cuba Act. I am confident that both of our nations and citizens will benefit through the exchange of people, goods and ideas. President Obama's visit is a huge step among many we need to take to lift the embargo and foster real change in our relationship. I will keep fighting to create the right conditions for when change really comes."
At the close of their press conference, something relatively new for the Cuban president with Obama beside him, Castro grabbed Obama's arm and raised it in triumph, a gesture that seemed to catch the president by surprise, leaving him with a limp arm.
Among the reactions to the president's visit to Cuba, two have come immediately from Sen. Ted Cruz and Donald Trump. Cruz, the son of Cuban refugees, charged that Obama has "chosen to legitimize the corrupt and oppressive Castro regime with his presence on the island … freedom cannot happen by enriching and empowering dictatorships."
Trump blasted Obama for failing to meet with Fidel Castro. During an interview with ABC-TV after the meeting with Raul Castro, Obama said he would gladly meet with Fidel, although he had no idea when that would happen. He said he did not have any idea when things would began to change in earnest on the island, "but they will change."
Some dissidents claim that things have gotten worse since the normalization process began, saying that 1400 dissidents had been arrested in January alone.
Even so, from Obama's perspective, it's a new day in Cuba.