April dance calendar
CHARMAINE PATRICIA WARREN | 3/31/2016, 2:38 p.m.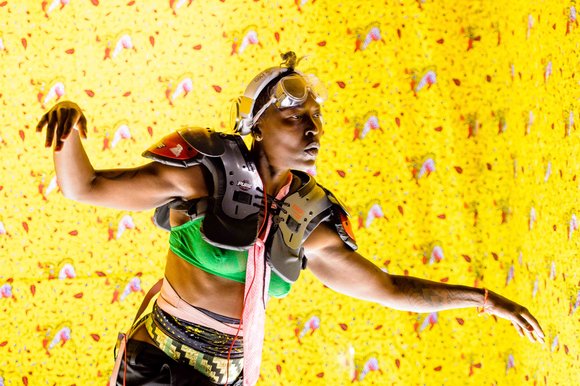 The April highlights total five: a celebration of Gus Solomons Jr. (April 1-3), Ballet Hispanico's 45th anniversary season (April 5-10), Dance of Harlem's celebration of women (April 6-9), Harlem Stage's annual dance series, "EMoves" (April 7-9), and Nora Chipaumire dance and film (April 14-17). The dance organization From the Horse's Mouth spearheads the celebration of dancer, choreographer, actor, writer and educator Gus Solomons Jr., a pioneer and dance legend whose life-long accomplishments exemplify a storied career spanning more than 60 years. Plans for the weekend celebration, at the Theater at the 14th Street Y, includes performances by upwards of 25 dancers, choreographers, critics and friends, viewing of rare film footage and a "talk back" hosted by Wendy Perron, former editor-in-chief of Dance Magazine. For more information, visit www.horsesmouth.org.
Celebrating their 45th anniversary, Ballet Hispanico returns to the Joyce Theater, with eight performances featuring a New York premiere plus a special matinee for children and families. Under artistic director and CEO Eduardo Vilaro, a double-bill of Spanish favorites is slated for the season: the premiere of Gustavo Ramírez Sansano's "Flabbergast" and the revival of Ramón Oller's "Bury Me Standing." "Club Havana" by Cuban-American choreographer Pedro Ruiz will also return. Finally, for the second year, the special matinee, "En Familia" will offer a "fun-filled journey through Latin American dance and culture." For more information, visit www.joyce.org.
Dance Theatre of Harlem, under artistic director Virginia Johnson and newly appointed executive director Anna Glass, promises a season that celebrates women. Three programs are planned: On opening night, Wednesday, April 6, the company will honor the "Empress of Soul," Gladys Knight, the 106th First Lady of New York City Joyce Dinkins and the multinational law firm Latham & Watkins LLP at its fifth annual Vision Gala. Friday, April 8 (Program A) will feature "Divertimento" (New York premiere) by Elena Kunikova, "When Love" by Helen Pickett, "Change" (New York premiere) by Dianne McIntyre and "Coming Together" by Nacho Duato. "Divertimento," "Change" and "Coming Together" are slated for Saturday, April 9 (Program B, matinee). Finally, Saturday evening, April 9 (Program A) will include a special tribute, "Black Ballerina Magic: A Tribute," featuring former Black ballerinas from Dance Theatre of Harlem, New York City Ballet, Houston Ballet, American Ballet Theatre and more. For more information visit www.dancetheatreofharlem.org.
April 7-9: Harlem Stage presents the 17th rendition of their acclaimed dance series "E-Moves," featuring commissioned work by four evolving dance artists in collaboration with musicians and visual artists. This year's choreographers include Davalois Fearon, Desiree Godsell, Jason Samuels Smith and Laurie M. Taylor. Each artist is paired with a mentor to provide guidance and insight. This year's mentors are Ted Louis Levy, who is working with Samuels Smith; Nia Love, who is working with Fearon; Edisa Weeks, who is working with Taylor; and Marya Wethers, who is working with Godsell. For more information visit www.harlemstage.org.
The Zimbabwe-born dancer-choreographer Nora Chipaumire will premiere "Portrait of Myself As My Father," an "…exploration of the Black Body," plus her short film, "Afro Promo #1: Kinglady," in New Jersey at Peak Performances. With "Portrait of Myself As My Father," according to the press release, Chipaumire "…tackles our idea of masculinity with her fearless investigation of Africa and the Black body." For this iteration of the work, Chipaumire and Sénégalese performer Pap Ibrahima Ndiaye ("Kaolack") are tethered together in a simulated boxing ring, where they seemingly move through "…a sinuous laboratory of heart, sweat and muscle," notes the release. For more information, visit www.peakperfs.org.