Barron: 'Bill Bratton can go to hell!'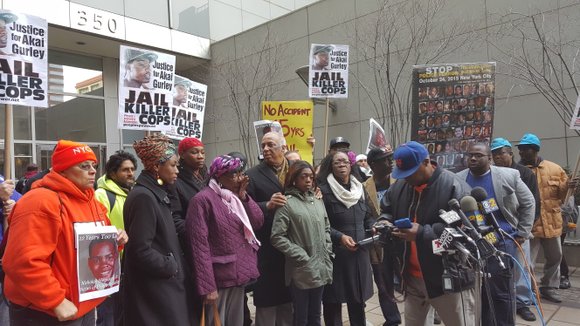 "My response to NYPD Commissioner Bill Bratton is that he can go to hell, and take his killer cops with him and take his broken window theory with him!" declared elected activist Assemblyman Charles Barron after hearing the commissioner's comments from last week.
Barron continued, "He has a lot of damn nerve talking about me inciting a riot. The only thing that is going to incite a riot is when he allows his killer cops, as with Eric Garner and Akai Gurley, to get away with killing us with impunity, and the racist system of injustice lets these cops go. That's what is going to cause a riot. So if anybody is going to be arrested for causing a riot, I'm going to make a citizen's arrest of him, because that's what's going to cause a riot, not my warning at a press conference."
Last Wednesday evening's (March 23) announcement that Brooklyn District Attorney Kenneth Thompson had recommended to Judge Danny Chun that convicted killer, ex-cop Peter Liang, serve no time in prison and instead receive a sentence of 500 hours of community service, six months of home detention and five years of probation raised the ire of several activists.
Thompson explained that the Liang case was always about "justice, not revenge."
The following day, Barron conducted a noontime press conference/rally "to express our outrage" in front of Thompson's downtown Brooklyn office at 350 Jay St., surrounded by numerous angry activists.
"District Attorney Ken Thompson betrayed the Black community," the original Black Panther activist stated. "How dare you, a Black man they put in a high position, get an indictment and conviction of manslaughter, then say he shouldn't spend a day in jail? You are out of your mind! This is why I continue to say, when peaceful means for justice are ignored, violence is inevitable!
"Don't blame me, the social-forecaster, for predicting a social uprising when this system refuses to value Black lives and refuses to send police officers to prison that abuse the use of deadly force. My condolences and support continues to go out to the family.
"We will not forget this. Some of our people in the streets are saying 'an eye for an eye, a tooth for a tooth, a life for a life.' Even Martin Luther King—the prince of peace—said that riots are the voices of the unheard. Am I saying we should be violent? I'm saying the system will determine that.
"Don't make us bring Ferguson to New York City. How dare you, after the community invested in you. All the good you've done has been wiped out. Thankfully your hypocrisy is just a recommendation. So we the people ask the judge to ignore this, and do the right thing."
In conclusion, Barron warned, "We will shut this city down, Ken Thompson. Wherever you go, we should be there."
Gurley's aunt, Hertencia Peterson, was accompanied by a silently sobbing Melissa Butler, who was with Gurley when he was fatally shot.
"You are just as guilty as if you'd pulled the trigger," Peterson said of Thompson. "We trusted you, and you hoodwinked us."