CUNY funding restored but everyone wants more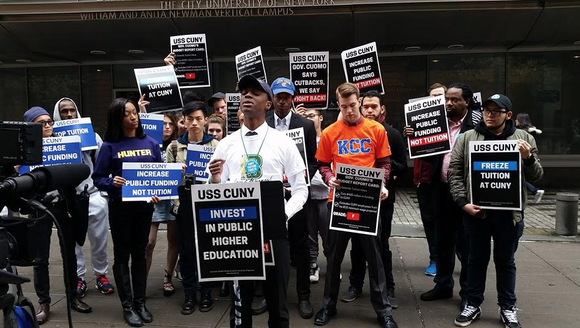 The City University of New York may have been "saved," but school officials and faculty and staff aren't letting New York State Gov. Andrew Cuomo off the hook.
After threatening to cut $485 million in funding from CUNY in his 2016-17 New York State Executive Budget and pass on the costs to New York City's government, Cuomo is backing off of the proposal in exchange for CUNY officials agreeing to review finances and find potential areas to cut costs, according to reports out of Albany.
But when speaking with CUNY officials, students and members of the Professional Staff Congress, the AmNews learned that people within the system believe more needs to be done.
"The 25,000 members of the PSC are proud to be part of a community of New Yorkers calling for increased funding for CUNY," said PSC-CUNY President Barbara Bowen in a statement. "We are relieved that Governor Cuomo heard us and announced that there will be no reduction in state funds for CUNY, and encouraged to hear that there is discussion of replacing the money that would otherwise have been contributed through increasing students' tuition, but now we need to make sure that the final budget includes funding to provide a raise for the CUNY faculty and staff, who have worked six years without one."
CUNY's faculty and staff have been working without a contract since 2009. PSC-CUNY has engaged in a sustained, organized effort to make Cuomo and the state legislature aware of what's at stake.
Last week, 40 CUNY supporters were arrested during a "die-in" outside of the governor's Midtown Manhattan office. New York City Council members Inez Barron and I. Daneek Miller were among those put in handcuffs. It wasn't the first time CUNY supporters have been there. Earlier in March, the AmNews reported on a rally held outside of Cuomo's office by PSC-CUNY, with students and other activists pushing for more funding for the system.
Another union that has stepped forward to push for more funding for CUNY and new contracts for its faculty and staff is District Council 37. In February, DC 37 Executive Director Henry Garrido told lawmakers in Albany that CUNY was the best chance a lot of working-class New York kids have to make something of themselves. Most recently, DC 37 leaders and activists delivered a petition to Cuomo's Albany office (signed by 5,000 CUNY supporters), calling for lawmakers to fully fund the CUNY system.
But they're not the only ones pushing for more funding.
"CUNY is seeking a stable, secure budget in support of quality higher education to meet the needs of its record student enrollments," said Jay Hershenson, the senior vice chancellor for University Relations and secretary of the Board of Trustees."Chancellor [James B.] Milliken's top priority is funding for a labor contract settlement with our dedicated faculty and staff. He is grateful for the governor's promise of no cuts in the university's budget. CUNY is now working with all parties in Albany to advocate for the investment required to assure that all students receive the programs and services vital to their educational success."