Gurley Family slams DA Thompson's 'no jail time' recommendation for killer cop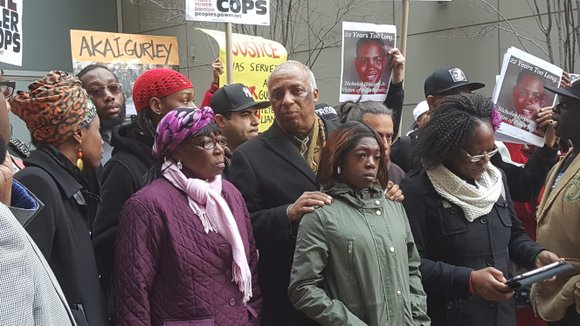 "If we don't get justice—" Hertencia Petersen, Akai Gurley's aunt called outside Brooklyn DA Ken Thompson's office.
"—shut it down!" an amped crowd of family, supporters and numerous grassroots groups responded.
"If Akai don't get it?"
"Shut it down!"
"DA Thompson, you are forewarned!" Peterson declared. "This is not the end!"
"This is the second killing of Akai Gurley," said a visibly moved City Council Member Inez Barron, "first by the NYPD, now by District Attorney Ken Thompson himself. The prosecutorial team has been let down, their work has been undermined and undercut. It's too bad that we don't have a whistleblower protection, so that those who know what the deal was that this DA made can come forward and tell us what that deal was."
"Akai's mom, my sister Sylvia Palmer, is just in shock because of this recommendation," Petersen told the Amsterdam News this week. "She is disappointed and frustrated. She feels isolated, and has pushed back into the shell she was just coming out of. Any trust she had for the justice system is gone."
"You betrayed our community, DA Ken Thompson," stated Assemblyman Charles Barron. "Your decision to recommend that the police officer found guilty of shooting Akai Gurley should serve no jail time is like killing him again."
Thompson's office attempted to assure that he was seeking "justice not revenge," with reference to the numerous police killings of unarmed Black men, such as Sean Bell, Timothy Stansbury, Ousmane Zongo, Amadou Diallo, Mike Brown and Eric Garner.
But at a loud and angry press conference in Downtown Brooklyn last Thursday afternoon, family, friends and supporters of the Gurley family blasted Thompson for recommending that convicted former NYPD cop Peter Liang serves no jail, despite his manslaughter conviction.
"Who got to you, DA Ken Thompson?" demanded Inez Barron.
Last month, the city was stunned when Liang was found guilty of killing the young father in the stairwell of Louis H. Pink Houses houses in East New York, Brooklyn.
Roger Wareham, attorney for Gurley's grieving girlfriend Melissa Butler, decried as a "failure of courage" Thompson's recommendation that on sentencing day rather than consider the possible 15-year sentence, Justice Danny Chun give Liang six months of home confinement with electronic monitoring, five years of probation and 500 hours of community service.
Wareham said that upon hearing the news, "Melissa's reaction was, 'All this was for nothing.' It was crushing."
Butler could not contain her tears as she shook, racked with angst. She had tried to save Gurley's life in the stairwell as she followed a 911 operator's instructions on how to apply CPR to her dying partner.
Wareham, himself seemingly holding back raw emotion, added, "Melissa's courage then has to be juxtaposed with the failure of courage. It was correct that he prosecuted the case. It was correct he got a conviction, because that was out of the norm for any place around the country. But, it was like someone who is on a football team. His team is behind, time is running out, he's running down the sideline with a running touch down, and then he decides that no one is around him and he throws the ball out of bounds. It's a failure of courage."