NACC holds Diversity Procurement Conference
Shanice Lewis | 3/31/2016, 12:03 p.m.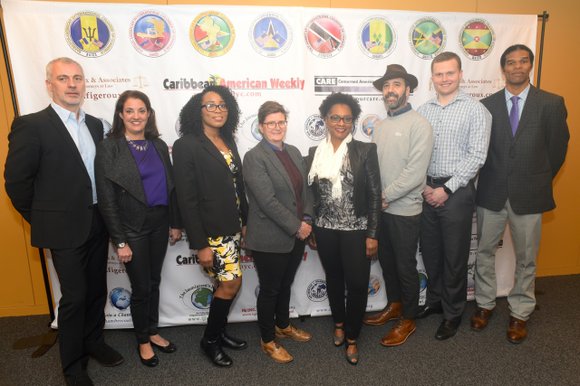 The New American Chamber of Commerce held its annual Diversity Procurement Conference last week. There, several business owners shared their insight into the ever-changing business world.
Pearl Philips, co-chair of the Chamber Coalition and president of the New American Chamber of Commerce, welcomed guests who were treated to a VIP breakfast, attended breakout sessions with various panel discussions and attended a networking luncheon. The event also featured fashion designers, an exhibiting hall of 40 vendors and representatives from other chambers within the coalition.
According to the NACC, the purpose of the Diversity Procurement Conference is "to educate our small business owners and budding entrepreneurs about procurement, certification and the available opportunities."
The NACC provide assistance and workshops to small businesses throughout New York City, especially minority- and women-owned businesses.
The NACC coalition includes several Caribbean chambers, such as the Barbados-American International Chamber of Commerce and the Jamaican-American International Chamber of Commerce, whose presidents were both in attendance at the conference.
President of the Barbados Chamber of Commerce Gazel Gibbons explained the mission her organization.
"Our goal is to primarily focus on education, promoting workshops on health, businesses, paralegal courses, immigration law, civil law and matrimonial law," said Gibbons.
On her role as president of the Barbadian-American chamber, she said, "I love helping people, coming out to meetings, networking with other chamber leaders and learning and growing from them."
The conference also featured a fashion show by Jamaican designer D'Marsh, who showcased a part of his collection from his line, House of D'Marsh. D'Marsh works closely with the Jamaican chamber to promote his work at different events.
President of the Jamaican-American International Chamber of Commerce Marica Roberts explained the importance of the chambers. She said, "Our main core is to help, to facilitate, to advance and enhance the different people."
On collaborating with D'Marsh, Roberts said, "We look for businesses that we can collaborate with, to do events where they can benefit from us and we can benefit from them."
Also in attendance was 10-year-old fashion designer and CEO of ChubiiLine and BullyChasers, Egypt "Ify" Ufele. She is known for overcoming her bullies and for being youngest fashion designer to have a show at New York Fashion Week.
Membership in the chambers requires a yearly fee. All are encouraged to join. "Whether you have a dream or a business, you're welcome to join a chamber," said Roberts.
To find out more about the NACC, their chambers and upcoming events, visit chambercoalition.org.