Second Intersolar Summit held in Brooklyn
SHANICE LEWIS | 3/31/2016, 3:21 p.m.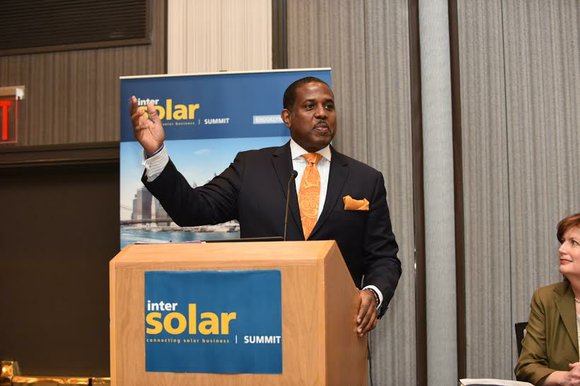 State Sen. Kevin Parker held the second Intersolar Summit USA East 2016 March 24 in Brooklyn, where more than 450 solar energy experts came together to discuss various solar energy projects.
The summit focused primarily on finding sustainable energy solutions and funding for solar projects throughout New York State.
"As we see a significant increase in consumer energy costs, it is imperative to discuss and find sustainable energy solutions and cost-saving measures that will benefit all New Yorkers," said Parker.
Parker is currently the ranking Democratic member on the Senate Committee on Energy and Telecommunications, where he tackles issues on energy efficiency and renewable energy for New York State.
Organizations that participated in part of this year's summit included Con Edison of New York, NYSERDA, Sustainable CUNY and the Brooklyn Chamber of Commerce.
The summit also follows Gov. Andrew Cuomo's Reforming the Energy Vision initiative, by which he hopes to "have renewable energy sources constitute 50 percent of New York's energy consumption by 2030."
Richard Kauffman, chairman of Energy & Finance for New York State; Mukesh Dulani, president of SolarWorld Americas Inc.; and Dr. Alex Levran, senior vice president and head of the Global Solar Industry Initiative, were among some of the solar experts in attendance at this year's summit.