Sharing the BBQ love: Great places to get your 'que' on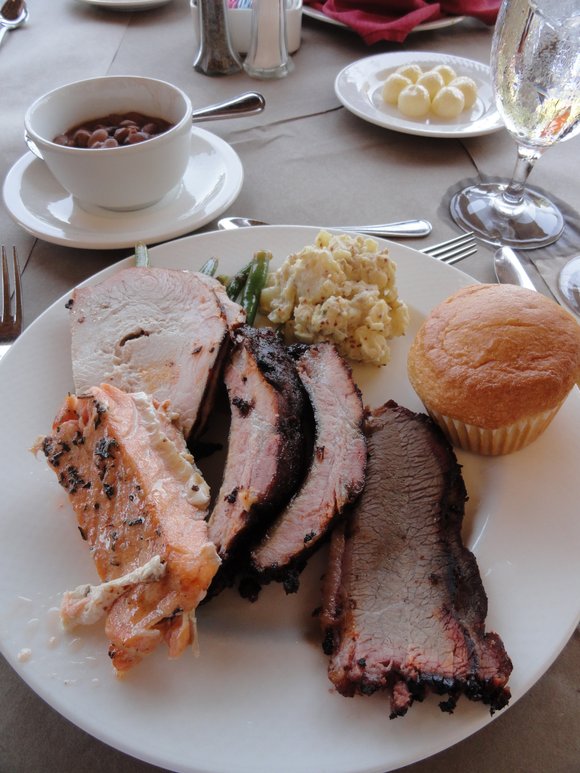 Brisket, rib tips, pork shoulder, ham, chicken, beef ribs, burnt ends, lamb—the options are endless for those who love barbecue. And there is no shortage of publications, organizations and festivals that celebrate this true American culinary art form in all of its smoky, saucy, savory goodness.
And it's not just the enjoyment, it's bragging rights, too, from the best cities for barbecue—Memphis, Charlotte, Dallas, St. Louis, Nashville, Kansas City—to the best barbecue joints. And let's not forget that May is designated as National Barbecue Month.
But why wait until then (kind of on the lines of "Life's too short; eat dessert first") when there's so much barbecue goodness to be had.
So loosen your belts, tuck a napkin in your collar and get ready for some of the best finger lickin' que dotted across the country. Bon Appétit!
THE BEST OF THE BEST
The big sign over the counter that reads "Run Pig Run" is your first indication that Swine Southern Table and Bar, "a house of worship to the porcine pursuits," is for real! Try their Black Angus burnt ends, low and slow ribs, 14-hour smoker brisket, or spice-rubbed and wood-grilled chicken wings with Alabama white barbecue sauce. (786-360-6433, www.runpigrun.com)
The Food Network's Guy Fieri says that in Memphis, Tenn., Tom's Barbecue & Deli "draws the crowds with a special Mediterranean twist on barbecue. They slather a Greek-inspired spice rub featuring thyme, oregano, pickling spice, celery salt and more on everything from brisket to turkey, including the signature rib tips…" No need to say more. (901-365-6690, www.tomsbarbeque.com)
Fette Sau BBQ in Brooklyn, N.Y. is a Big Apple favorite and recognized by some as best barbecue in New York. Berkshire St. Louis-style pork ribs, Red Wattle pork cheeks, three-day brine house-cured pastrami, lamb shank, boneless and bone-in ribs and Akaushi flank steak are just the beginning of the meaty good eats here. (718-963-3404, www.fettesaubbq.com)
You might not think of the Pacific Northwest when choosing a barbecue joint, but Seattle, is full of good ones. An area favorite is Bourbon & Bones, where the proprietor has fused his southern roots and Dominican heritage into every aspect of the food, from the pulled pork to the spareribs, housemade andouille sausage and even their fried chicken. Added to that is the fact that they use only locally sourced, naturally raised and hormone-, antibiotic- and steroid-free meats. (206-582-2241, http://bourbonandbones.com)
There are a lot of "so good it made me want to slap your momma" jokes out there, but in Kansas City, Kan., slappin' means something entirely different at Slap's (Squeal Like a Pig) BBQ. The line is out the door at this lunch-only joint for their burnt ends, sausage, chicken, St. Louis-cut pork spare ribs, turkey and bacon. (913-213-3736, www.slapsbbqkc.com)
Whole and half rack of ribs, Cajun sausage links, beef brisket and pulled pork are what's "always smokin," the motto used at The Joint in New Orleans. Besides their huge local following, the restaurant has been featured on "Diners, Drive-Ins and Dives" and listed among the best of the best in the Zagat guides, among other A-list publications. (504-949-3232, http://alwayssmokin.com)