'Yardbird' the opera, Cobi Narita
Ron Scott | 3/31/2016, 2:41 p.m.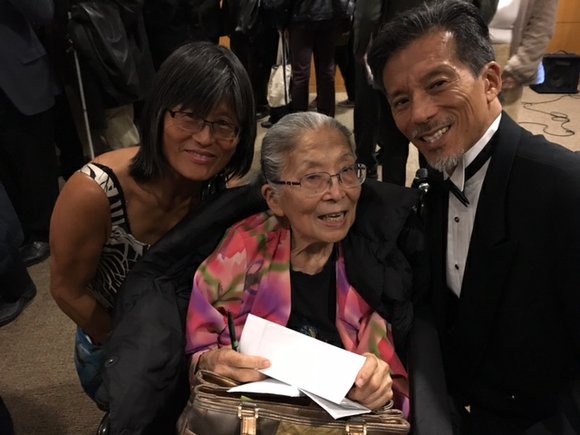 There is a 10-feet high bust of Charlie "Yardbird" Parker, the legendary alto saxophone player in his hometown of Kansas City, Kan. On March 30 Parker's spirited presence became a mainstay in Harlem as he was inducted into the Apollo Theater's Apollo Walk of Fame.
His plaque was installed underneath the Apollo's marquee on 125th street, alongside plaques for such Apollo legends as Louis Armstrong, Ella Fitzgerald, Smokey Robinson, Michael Jackson and Aretha Franklin.
Since 1993, Parker's significant contribution to jazz and his continued influence on generations of musicians is celebrated in Harlem (Marcus Garvey Park) and on the Lower East Side during the annual outdoor summer festival named in his honor.
After relocating from Kansas City, he called Harlem his second home. He could always be found gigging at Minton's Playhouse, the Savoy Ballroom, Small's Paradise and the Apollo Theater. His funeral in 1955 was held at Abyssinian Baptist Church, and the service was officiated by the Rev. Adam Clayton Powell Jr.

On April 1 and April 3, the Apollo Theater and Opera Philadelphia are partnering to present "Charlie Parker's Yardbird" in its New York premiere. The co-production will mark the first time an opera will be performed on the Apollo Theater stage, and the first time Opera Philadelphia will play New York.
Set in the storied Birdland Jazz Club (then located on West 52nd Street) on March 12, 1955, the day Parker died, the opera invites audiences into the saxophonist's psyche as he composes his final masterpiece, and revisits the inspirations and women who fueled his creative genius.
The New York premiere reunites Lawrence Brownlee, the tenor in the lead role as the legendary jazz saxophonist, with soprano Angela Brown as his mother, Addie Parker, and baritone Will Liverman debuts as trumpeter Dizzy Gillespie. The music is by Daniel Schnyder, libretto by Bridgette A. Wimberly and direction by Ron Daniels.
It is significant to have Parker as a jazz musician immortalized in an opera. The alto saxophonist was always attempting new sounds and techniques on his horn, which included constantly alternating his mouthpieces. Although the opera may not be as swinging as Parker's tunes, it does introduce him and the jazz genre to another music idiom and audience, which is always welcomed in the world of jazz.

On April 1, the performance is at 8 p.m., and on April 3, it is a matinee only at 3 p.m. Tickets for Charlie Parker's "Yardbird" are $30-$125. Tickets are available at the Apollo Theater box office, 212- 531-5305, or Ticketmaster at 800-745-3000 or www.ticketmaster.com.
Cobi Narita is known as the Godmother of Jazz. She has been promoting jazz productions and been a confirmed jazz activist since the 1960s. For five decades, she has been personally committed to the jazz community and its many musicians. Her effort to help musicians in need and inspire younger musicians has always been at the top of her list.
Last week Narita celebrated her 90th birthday at St. Peter's Church (known as the jazz church) on Manhattan's East Side. She was surrounded by a host of friends from the jazz community and family. Many musicians performed from her weekly Friday night open-mic.
Her son, Rob Narita, performed a heartfelt rendition of "Because You Loved Me." Her daughter, Jude Narita, sang one of her originals. Other performers included singers Ira Lee Collings, Mary Rocco and Derek Hood, and tap dancers Michael Tiranoff, Megan Huang and Hank Smith.


Her wonderful musician friends who joined the celebration included the saxophonist/composer Jimmy Heath, who was joined by pianist Jeb Patton, bassist David Wong and drummer Winard Harper. The pianist Frank Owens performed with bassist Lisle Atkinson and drummer Greg Bullard, and pianist Valerie Capers joined with bassist John Robinson for a swinging duo.

In the late 1970s Narita founded Women in Jazz in an effort to expose their talent to the public at large. She also founded the Universal Jazz Coalition/Jazz Center of New York. The organization continues to be a clearinghouse for jazz, offering jazz workshops, films and seminars.
Narita's journey is carried on with an abundance of love and devotion to this music called jazz and all those involved.