What's it like to apply to college from one of America's poorest neighborhoods?
CNNMoney followed 5 seniors in the Bronx, NY this year.
Heather Long, CNN | 5/2/2016, 10:29 a.m.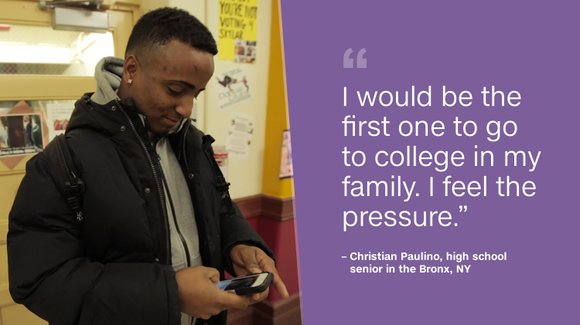 NEW YORK (CNNMoney) -- Folashade Olatunde is a teen in the "Boogie down Bronx," where hip-hop was supposedly born. It's also a part of New York City where most families earn under $30,000 a year.
Expect to see her on TV or running for elected office one day, she says, but right now she's focused on college. Only 11% of adults in her zip code have a bachelor's degree.
"I would be the first person out of my entire family to graduate college," Olatunde told CNNMoney. Her mother and brother took a few classes but never earned degrees.
A high school senior with a big smile and "a lot of talents," Olatunde has already had a taste of success. In December, she sang at a taping of ABC's "The View" in front of her idol Raven-Symoné. Last week, First Lady Michelle Obama gave her a hug, congratulating her on being accepted to college.
"That really motivated me," says Olatunde.
Defying the odds
New York University was Olatunde's "dream school" because of its reputation in her favorite fields: journalism and the arts.
"The hardest part was choosing if I should stay home or go away for college," she says.
As the months went by, reality hit. She didn't get in to New York University. She was accepted by half a dozen schools, but most didn't give her enough financial aid.
Unaffordable tuition is a key reason why low-income students don't finish college. As if getting in isn't tough enough, once they enroll in college, only 22% of students from families earning less than $35,000 a year graduate with a bachelor's degree. That's according to a report from The Pell Institute and the University of Pennsylvania's Alliance for Higher Education and Democracy.
At the other end of the spectrum, 96% of students from wealthy families complete their degrees once they enroll in college.
The affordable option: staying close to home
To make it work financially, Olatunde will stay at home and attend York College next year. It's part of the public university system in New York City known as CUNY. Tuition is only $6,400 a year.
"I don't care about the name of the college. I care about what the school has to offer," she says. York College has promised her a counselor for four years, a summer pre-college prep program and funds to help her buy books and supplies.
High school culture makes a difference
CNNMoney followed Olatunde and several classmates during their senior year of high school as they tried to defy the odds by getting into college from one of America's poorest neighborhoods.
The students attend Morris Academy for Collaborative Studies, a public high school in the South Bronx that looks like a castle. It was built in the late 1800s and has prestigious alumni, including former Secretary of State and military leader Colin Powell. His picture hangs in the main hallway, a constant reminder of the American Dream.