Hattie B's knows hot chicken!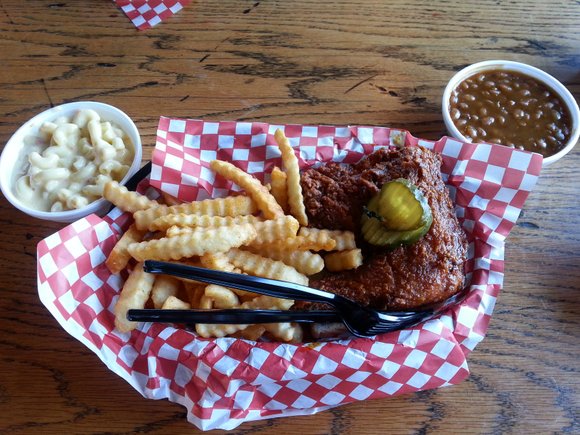 So, at the end of our last adventure in Nashville, when we were checking out some of the many outstanding culinary options, I left you with a little honorable mention cliff hanger: "There's one more excellent Nashville restaurant to talk about, but its backstory and menu really warrant its own feature. It's just that good. I'll give you a little hint: The Colonel's got nuthin' on this place!"
Now I know everyone has his or her own gastronomic palates and preferences, ranging from fast food to homemade bistro fare, chain restaurants, high-end establishments and everything in between. And in an attempt to not diss any one of the aforementioned, I will say that it somewhat ruffles my feathers (you'll get my pun in a second) when a big company takes a local or regional specialty, mass markets it and tries to call it their own.
This is the circumstance around hot chicken. But once you understand the history, you'll see why one of the best places to enjoy it is at Hattie B's.
BACK IN THE DAY
The Bishop family knows cooking. They've had lots of experience, dating back to the 1940s, when Gene Bishop started working for the Morrison's Cafeteria chain in Mobile, Ala. Over 50 years, he held almost every position, retiring as its CEO in the 1990s. During that time, there were several successful spin-off companies.
Bishops sons—Gene Jr., Tim and Nick—also worked there. Gene Jr. owns Bishop's Southern Tradition in Mobile and brother Tim owns Bishop's Homestyle Cooking in Dothan, Ala. Other Bishop family restaurant forays include Ruby Tuesdays, purchased when the chain numbered only 15 restaurants. It now numbers more than 800 restaurants.
Nick spent 21 years with Morrison's, eventually opening a new family place—Bishop's Meat 'N Three in Franklin, Tenn. (12 miles south of Nashville)—serving affordable Southern comfort food. It was here that they started perfecting their hot chicken recipes, a distinctive deep-fried specialty with varying levels of heat.
But Nick is quick to point out that his family did not originate the "genre," instead putting their own unique spin on this 1930s staple of Nashville's Black neighborhoods, created by a man named Thornton Prince of today's Prince's Hot Chicken Shack.
The Bishop family history is still being written.
WHO'S YOUR HATTIE?
Enter Hattie B's. The original opened in downtown Nashville in 2012, right on the cusp of Nashville's rebirth to the rest of the world as a city with a rich history and culture that goes far beyond country music.
The restaurant is named in honor of Hattie Melba Bishop, Nick's mother, and Hattie Bright, the young daughter of Nick Jr., who also works in the family business. One of Nick Sr.'s sons-in-law, John Lassiter, is the Hattie B's executive chef.
As their popularity grew, they decided the close the downtown location and open another one in midtown, just a few blocks from Vanderbilt University. And you know a place must be good when there is a line outside the door, winding its way to the street, well before they open their doors at 11 a.m.!