Misty Copeland poised to take flight
Zita Allen | 5/5/2016, midnight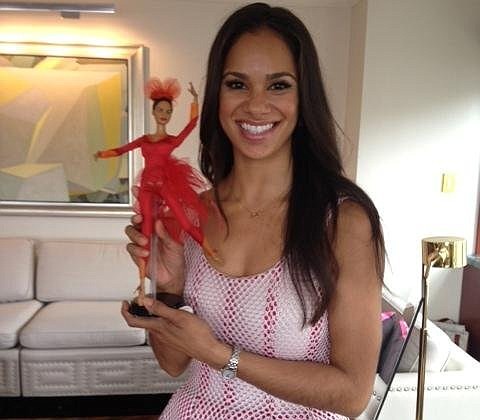 This is an amazing time for ballerina Misty Copeland. On May 2, one of the world's largest toy manufacturers, Mattel, launched a Misty Copeland Barbie Doll as part of its "Sheroes" program, honoring female heroes who inspire girls and women "by breaking boundaries and expanding possibilities." A few days later, May 9, marks the beginning of Copeland's first full season as a principal ballerina with American Ballet Theater, the first African American ballerina principal in that company's 75-year history.
Just as the Barbie doll perches on point, poised to take flight, wearing a flaming red replica of the costume Copeland wore in her breakthrough performance of Alexei Ratmansky's "Firebird," Copeland, too, is poised to reach new heights in an already remarkable career. During ABT's upcoming season, she will reprise her role in "Firebird" and star in such storied classics as "Swan Lake," "Romeo and Juliet," "La Fille mal gardee," "Le Corsaire" and "The Golden Cockerel."
During a brief break in her hectic schedule, Copeland sat down to talk about the new Barbie doll, the ABT season and much more. Copeland said she's thrilled that the doll she used to "play out the dream of becoming an ABT ballerina now can inspire others." She added that her performance in "Firebird" might have helped to convince Kevin MacKenzie, ABT's artistic director, that she was prepared to take the next step.
In the wake of that promotion, Copeland has been swept up in a whirlwind of activity. She has sparked discussions of race and diversity, and she recently joined President Barack Obama to tackle the issue for Time Magazine. Copeland has helped broaden the efforts of ABT's Project Plié to train young ballerinas of color. She is also launching a line of exercise clothing suitable for diverse body types. Hollywood has even gotten in on the act as plans are being made for a movie adaptation of her autobiography, "Life in Motion." Copeland has been honored by a host of mainstream publications, including Sports Illustrated, Variety and Dance Magazine. In spite of it all, she said that her primary focus is on being the best artist she can be.
When asked if she feels the focus on her as an agent of change and icon misses the heart of the matter—the focus on her as a ballerina—she said, "It's definitely been missed, but I think that's because a lot of these interviews and obligations don't really know a lot about ballet and what it takes. So they kind of miss that aspect of me, which," she said smiling, "is actually all of me." Still, she's grateful to represent something that's so much bigger and means so much to so many. But, she added, "I'm really just this artist who's worked so hard and will never stop working to be the best I can be every day."
That focus is key as she prepares for a season that is as demanding as it is monumental. Copeland explained, "The last time I did 'Firebird' I just did one performance here in New York before I pulled out to have surgery for a dance injury. While I don't feel any apprehension about this season, I know it will be just as difficult this time as it was four years ago. It's such a different experience now that I've also done 'Swan Lake' and 'Romeo and Juliet.' I feel like I have so many new ideas of how I want to approach 'Firebird' and so much more experience to bring to it."
Of course, it's rare that a young principal dancer is watched as closely as Copeland. Most have time to grow and blossom into their roles. Copeland said, "I can't imagine what my 100th 'Swan Lake' is going to be like compared to my first. You learn different ways you want to approach a role and there are so many variables that take place when you're doing live theater and creating these characters in the moment." But, that is the beauty of the story ballets that are the heart of her repertoire this season. They require a unique blend of technique, poetry and grace that magnifies not the steps themselves but the character the dancer has become.
When asked if the conversation about race and diversity sparked by her success is a distraction, Copeland instantly said that in fact it adds something. "It's so frustrating for me when I read that some people want to remove race from my story. It is my story. I wouldn't have this journey without that so it doesn't make any sense to all of a sudden think that because I've reached this success it is no longer relevant. It's important for people to understand that in this day and age it's still an issue, it's still something that needs to be discussed. It affects so many people and there are still barriers that need to be broken down."
As our interview drew to a close, Misty stopped to recall a friend she lost. Someone who, before the world took notice of her, included her in his 2009 music video for "Crimson and Clover" and invited her to join him on his European tour and Madison Square Garden show in New York—Prince. Tearing up as she spoke of him, Misty said, "Prince played a huge part in this journey. I am just so grateful to have had any time with him. Prince taught me to be proud of who I am and to be me all the time. He's the first person to give me that opportunity. I'm the artist I am because of him." She added, "He did a lot for ballet behind the scenes that people don't know about. I introduced him to the Uptown Dance Academy in Harlem. He came and watched me perform as a guest artist at the Apollo and gave the Academy a huge check that saved their school. They're still standing today because of him. Prince was an incredible friend and mentor and he will never be forgotten."
It's safe to say, even before Misty Copeland takes the stage during ABT's spring season, she, too, will never be forgotten. And this is only the beginning of her journey.