Mother's Day tears: Women mourn the lives of their children taken by violence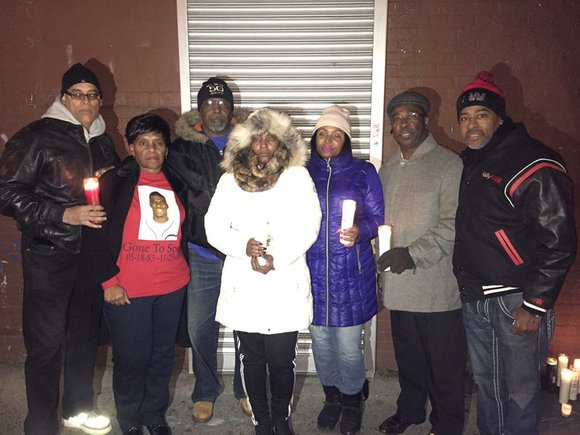 Mother's Day may be a commercially contrived premise, but it brings with it a deep sense of sentimentality for many. For some mothers though, it brings unspeakable grief as they wrestle with the unimaginable pain of the loss of their children to reckless street or police violence.
"Peter Liang's mother can get hugs from her son" said Hertencia Petersen. "He can bring her flowers, take her to the movies, see her whenever he wants. Akai Gurley's mother can not do that—ever."
Petersen is the aunt of Akai Gurley, who was slain by convicted, but not jailed, ex-cop Peter Liang. "I don't have an emotional attachment to any of the holidays anymore," she told the Amsterdam News. "I won't celebrate any of these days until Peter Liang is held accountable for my nephew's death. Imagine how it is for mother Sylvia. She is devastated. Due to the recklessness of Liang, she no longer has her son this Mother's Day—or any other day."
Activists are noting that there are hundreds, if not thousands, of mothers for whom this day is more difficult than most, save for the tragic anniversaries of the deaths of their children. In the news are some mothers of the well-known victims: Sandra Bland, Rekia Boyd, Trayvon Martin, Tamir Rice, Iofemi Hightower, Prince P.J., Oscar Grant, Randy Evans, Nicholas Heyward Jr., Khiel Coppin, Justin Smith, Shantel Davis, Latasha Harlins, Ramarley Graham, Timothy Stansbury, Kimani Gray, Eric Garner, Sean Bell, Gregory Chavis, John Crawford, Jordan Davis, Michael Brown, Freddie Gray, Amadou Diallo, Chris Owens, Walter Scott, Antiq Hennis, Ousmane Zongo, Akai Gurley, Tonaya Copeland, Mohammed Bah, Phillip White, Jamal Gaines and mother of 12, Zurana Horton.
Walk down any inner-city street in New York, and you still might see a black T-shirt with "I Am Sean Bell" in bold gold letters on it.
Valerie and William are the parents of the 23-year-old father of two, who was shot at 50 times by NYPD plainclothes cops—on his wedding day, Nov. 25, 2006.
Valerie Bell told the AmNews, "It is a hard day, but thank God Sean left me two grandchildren—Jada, 13, and Jordyn, 9. That's how I get by on that day. A lot of people didn't get that chance because their loved ones were so young when they were killed, and they did not have children yet. This year makes 10 years since Sean was killed by the NYPD. His oldest daughter was 2-years-old when he died, and he did not get a chance to know his baby who was 5-months-old. Just to see them lifts me up. There are so many ways they have that remind me of him—the way they look, their personalities, their ways to an extent."
Bell, who has another son, William, and daughter, Delores, says that she is a part of a network of mothers who also have lost children to police or gun violence.
"Yes, we are a circle of mothers who have a sad commonality, but we are able to come together to support each other, and give each other strength," she said. "We are there for other mothers to give them comfort as they seek justice. When the next African-American and Latino family succeeds in making the police accountable and get justice, that will bring me joy."