Black West Point cadets under scrutiny for raised fists in photo
David Shortell, CNN | 5/9/2016, 11:44 a.m.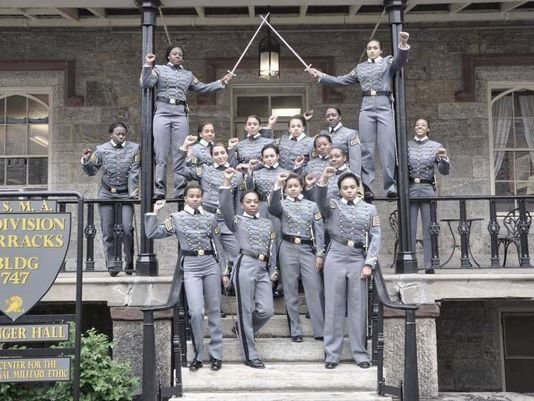 (CNN) -- It's a time-honored tradition at the U.S. Military Academy in West Point, New York -- graduating seniors in small groups don their ceremonial high-collared uniforms and pose for a photo in front of historic Nininger Hall.
Their poses are typically stern and stoic, mimicking sepia-toned editions that date back to the 1800s.
They do not typically raise a clenched fist in the air.
So when a photo of 16 female, African-American cadets making the gesture was posted online last month, it raised eyebrows at the elite training academy, which produces many of the nation's future military leaders.
The photo circulated among students over social media, said a student and a school representative who asked to remain anonymous because cadets are not allowed to speak to the media. Soon, it grew into an on-campus controversy -- a potential break in the taboo against advocacy by military personnel.
The photo gained national attention last week when a blogger popular among some in the military wrote about it after multiple cadets sent in the photo, according to the blog's author. In posts on his blog and on his Facebook account, John Burk called the image a "completely unprofessional" reference to the Black Lives Matter movement. The Facebook post drew hundreds of comments and was shared more than 1,400 times.
In days since, scores of alumni have lined up in support of the young women, who have not spoken publicly about the photo or been identified by West Point. Meanwhile, the school said it is investigating whether the photo violates the military's restrictions on political expression.
Mary Tobin is a graduate of the academy who said she is a mentor to some of the women in the photo and has spoken to them since the inquiry was launched. She said the pose had nothing to do with politics.
"They weren't doing it to be aligned with any particular movement or any particular party. It was, 'We did it and we did it together,'" Tobin said, referring to their completion of four years at West Point.
On-campus controversy grows wider
Under scrutiny is an "Old Corps Photo," as the graduation tradition is referred to at the school. It shows the African-American women in sharp, gray uniforms, each with a fist held at face level.
It was taken as part of a series, as is custom for various groups in the graduating class. The cadets in the photo posted it to Facebook along with other stills from the shoot, alumni who know the women said.
Brenda Sue Fulton, a West Point alumna and member of the school's board of visitors at the academy who said she is friends with some cadets in the picture, saw the group's photos and shared her favorite one. It featured the same group of 16 women in a more standard Old Corps pose, looking serious and gripping their ceremonial sabers.
"THIS. Fearless, flawless, fierce. Ready," Fulton wrote. That photo was retweeted by Patrick Murphy, acting secretary of the Army.