How Prince and Michael Jackson led parallel lives
Lisa Respers France, CNN | 5/10/2016, 11:59 a.m.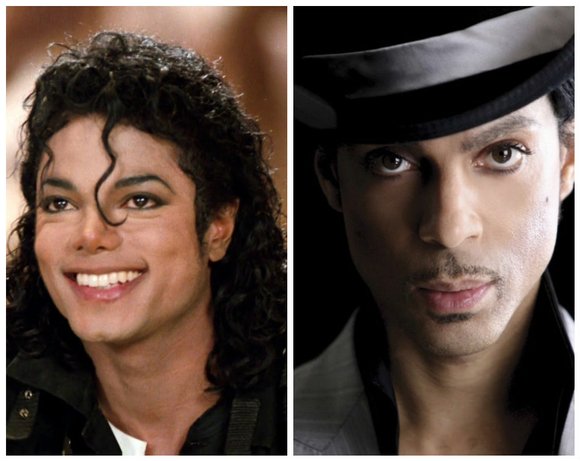 (CNN) -- Prince and Michael Jackson.
They were born the same year and rose to colossal fame in the 1980s. Each defined a sound for a generation. They were both committed musicians who helped to integrate the world of mainstream music videos.
Prince and Jackson were intensely private, almost otherworldly. They often retreated into their homes, which were really compounds that let them close off the world.
In life, their careers seemed to track, but rarely touch, one another. Were they friends? Not really. Were they rivals? Not really.
In death -- Prince last month, Jackson in 2009 -- the two are finally more closely linked in one way: Their deaths were shocking, untimely and tragic.
The shy guy and the bad boy
Jackson and Prince had very different starts.
Soft-spoken and childlike, Michael Jackson came from a large family of entertainers as famous as he was. He was -- initially -- devoutly Jehovah Witness.
Prince, born Prince Rogers Nelson, was a child of divorce who shared a love of music with both his jazz artist parents and his sister Tyka Nelson.
Jackson grew up in the spotlight in Los Angeles, a child TV star known by millions. Prince grew up in Minneapolis, a shy, musical child who played in the local dance band, Grand Central, in seventh grade.
"I was born here, unfortunately," a then-teenaged Prince told his school newspaper about his band in 1976. "I think it is very hard for a band to make it in this state, even if they're good. I really feel that if we would have lived in Los Angeles or New York or some other big city, we would have gotten over by now."
Prince would eventually sign a record deal at the age of 18.
By the time Jackson was 18, he and his brothers were releasing their 13th studio album, "The Jacksons," and MJ was just a few years from going solo.
Jackson was the reigning King of Pop courtesy of his "Thriller" album, when Prince's "Purple Rain" film and soundtrack began to soar in 1984.
Prince had already found fame with his "1999" album and was being called "the new Jimi Hendrix" for his talent as a guitarist. His lyrics were suggestive and he was as sexually in your face as Jackson was clean cut.
Steven Hyden is the author of "Your Favorite Band Is Killing Me: What Pop Music Rivalries Reveal About the Meaning of Life." In an interview last week he said Jackson and Prince both denied that there was ever any real rivalry between them, though they were both extremely competitive.
"I think that they did motivate each other," Hyden said. "They were both such outsized personalities and for both of them playing into the rivalry was good PR."
Especially for Jackson.
In the 1980s, a story made the rounds that Prince declined to participate with Jackson and many other stars in the charity recording of the song "We Are The World." "Michael Jackson looked like a saint and Prince looked like a guy who didn't care about starving children," Hyden said.